Prime Minister Narendra Modi will install the 'Sengol', a historical sceptre from Tamil Nadu, in the new Parliament building which is scheduled to be inaugurated by the PM on May 28, 2023, Home Minister Amit Shah said on Wednesday.
The 'Sengol' was received by Independent India's first Prime Minister, Jawaharlal Nehru, from Lord Mountbatten to symbolically represent the transfer of power from the British and was later kept in a museum in Allahabad.

Also read: Inspired by the Cholas, handed over to Nehru: historic 'Sengol' to be installed in new Parliament building
"We want the people of India to see this and learn about this historic event. It is a matter of pride for all," Mr. Shah said.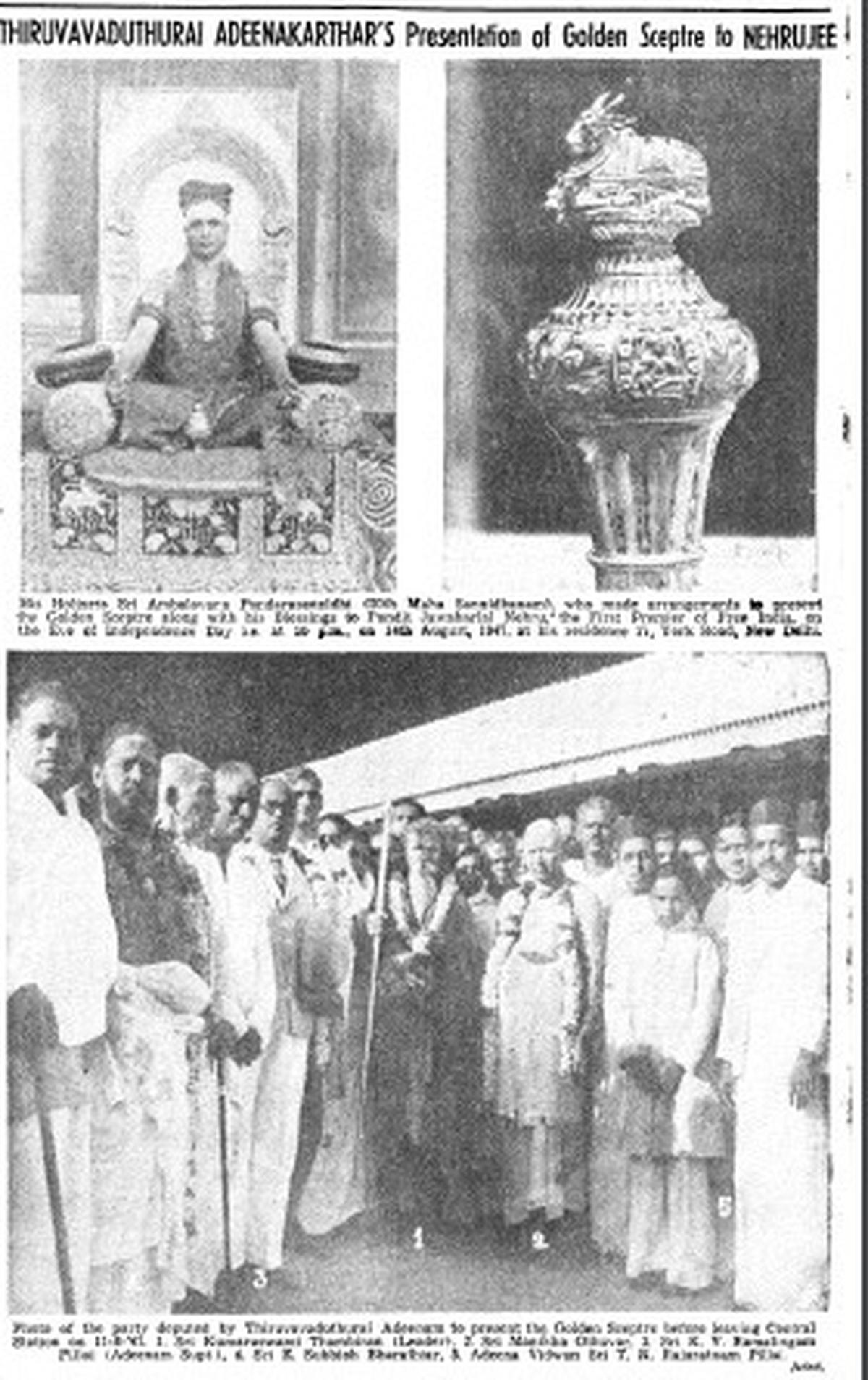 When Rajaji suggested a Chola-era ceremony
When India attained independence from the British, the then Viceroy Lord Mountbatten posed a question to the to-be Prime Minister Jawaharlal Nehru: "What is the ceremony that should be followed to symbolise the transfer of power from British to Indian hands?"
Nehru then consulted C. Rajagopalachari, commonly known as Rajaji, who went on to become the last Viceroy of India. Rajaji identified the Chola model where the transfer of power from one king to another was sanctified and blessed by a high ruler. The symbol used was the handover of 'sengol' or sceptre from one king to his successor.
A golden sceptre was crafted by Vummidi Bangaru Chetty, a famous jeweller in the Madras Presidency. The makers of the sengol, Vummidi Ethirajulu (96) and Vummidi Sudhakar (88), are living in Chennai.
The 'handing over' ceremony that happened on Independence Day eve
On August 14, 1947, the deputy high priest of Thiruvavaduthurai Adheenam (a 500-year-old Saivaite monastery), nagaswaram player Rajarathinam Pillai, and an Odhuvar (a person who sings devotional songs in Tamil temples) were flown to the Capital from the then Madras Presidency.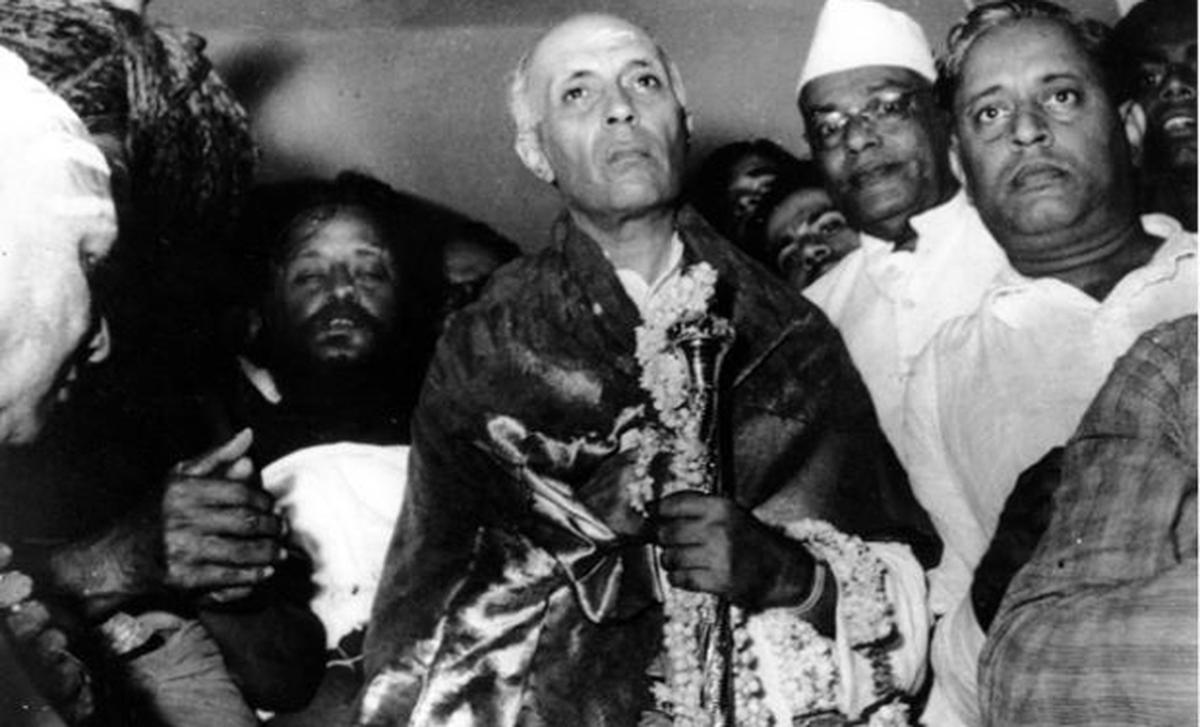 The ceremony was conducted as per Tamil traditions and the sengol was handed over to Nehru at his house.
The incident was recently recalled in a policy note prepared by the Hindu Religious and Charitable Endowment Board, Government of Tamil Nadu.
SCEPTRE TO BE PRESENTED TO NEHRU
MADRAS, Aug. 10.: In connection with the Independence Day celebration, His Holiness Sri-la-Sri Ambalavana Pandarasannadhi of Tiruvaduthurai has arranged to perform special puja to Shiva and to Confer the lord's blessings on Pandit Jawaharlal Nehru. The puja prasadams and a sceptre made of gold will be presented to Pandit Nehru at his residence in New Delhi at 11 p.m., on August 14. The gold sceptre was made by Vummidi Bangaru Chetti and Sons, Jeweller and Diamond merchants of the Citv.
From the pages of The Hindu (August 11, 1947)
Mr. Shah recalled that the transfer of power is not merely a handshake or signing of a document and that it must remain connected with local traditions keeping in mind modern needs. "Sengol represents the same feeling that Jawaharlal Nehru felt on August 14, 1947," he said. 
Mr. Shah added: "Even after 75 years of independence, most of the people in India are not aware of this event. On this night (August 14, 1947) Jawaharlal Nehru received the Sengol from the Adheenams (Priests) of the Thiruvaduthurai Adheenam (Mutt) in Tamil Nadu, who had specially arrived for the occasion. It was precisely the moment in which power was transferred by the British into the hands of Indians," the minister said.
All 20 Adheenams invited for new Parliament building inauguration
"This historic plan has been prepared in consultation with the presidents of Adheenam. All 20 Adheenam presidents will also be present on this auspicious occasion to shower their blessings in reminiscence of this sacred ritual. I am glad that 96-year-old Vummidi Bangaru Chetty ji, associated with its creation, will also participate in this sacred ceremony," Mr. Shah said.
Expressing happiness about Mr. Shah's announcement, the 24th and current seer of Thiruvavaduthurai Adheenam , Sri La Sri Ambalavana Desika Paramacharya Swamigal said that on the day of the inauguration of the new Parliament building the sceptre will be handed over to Mr. Modi as a symbolic gesture.
The Home Minister said that the new Parliament building was an example of Prime Minister Narendra Modi's far-sightedness. He said the Prime Minister would honour 40,000 labourers at the inauguration.
On Opposition boycott
When asked about Opposition parties boycotting the inauguration, Mr. Shah said invitations for the inauguration of the new Parliament building were sent to all political parties who were free to act according to their wisdom. "The event should not be politcised, it is a symbol that governance should be just and fair. People react and act according to their capacity," he added.
Union Minister for Culture and Tourism Kishan Reddy; Union Minister for Information and Broadcasting and Youth Affairs and Sports Anurag Singh Thakur; and Secretary, Ministry of Culture, Govind Mohan were also present.