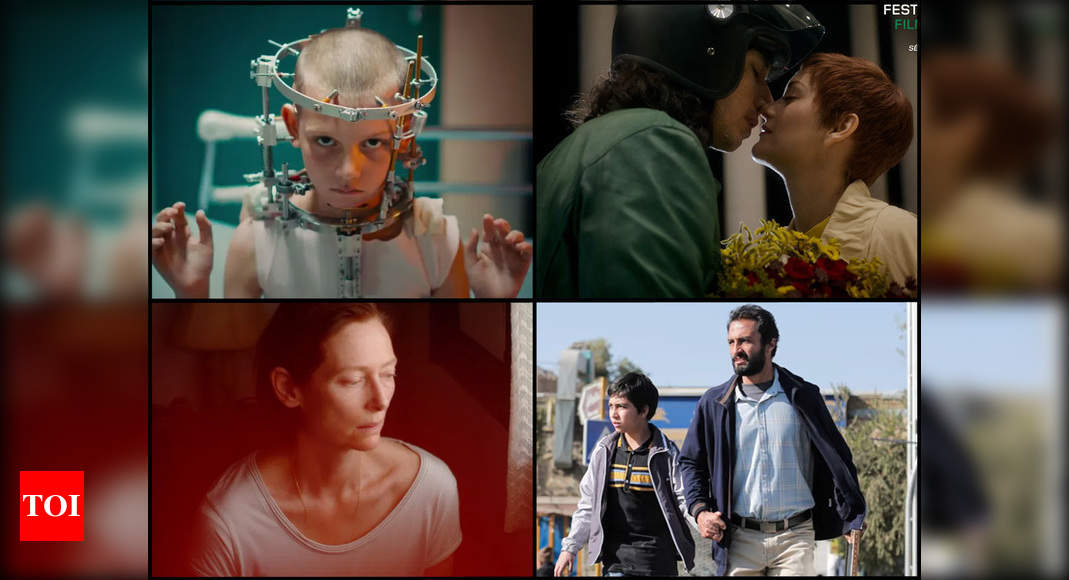 The prestigious Cannes Film Festival culminated on Saturday with French director Julia Ducournau's film '
Titane
' winning the most prestigious award of the festival – Palme d'Or.
The 74th edition of the film festival that was delayed due to the covid-19 pandemic, had as many as 24 films from all over the world making their debut at the event. From the wild 'Titane' to Marion Cotillard and Adam Driver's musical 'Annette', Asghar Farhadi's suspenseful drama 'A Hero' to Wes Anderson's ode to journalists with 'The French Dispatch', this year was packed with variety.
Here's a list of Top 10 films that debuted at Cannes.
Titane – Palme d'Or Winner


The French and Belgian film directed by Julia Ducournau tells the tale of a young female killer who indulges in sexual activity with cars after surviving a traumatic car crash in her childhood that leaves her with a titanium plate in her head. Dubbed as 'genius and craziness' by director Spike Lee, the most-talked-about scene at the festival was the lead protagonist getting impregnated by a Cadillac.

The Palme d'Or win makes Ducournau just the second female filmmaker to win the festival's top honour in its 74-year history.
Murina – Camera d'Or Winner


Antoneta Alamat Kusijanovic's 'Murina' is a Croatian coming-of-age story about a young woman negotiating her attraction to a stranger who arrives on her remote island.
A Hero – Grand Prix winner


Tipped to be decorated Iranian filmmaker Asghar Farhadi's third ticket to Oscar glory, 'A Hero' is a social drama about ethics and integrity as it follows the story of a man who serves jail time for an unpaid debt. However, things take a surprising turn when he finds a bag full of money. Farhadi shared the Grand Prix award with Finnish director Juho Kuosmanen's 'Apartment No. 6.'
Annette – Best Director


Leos Carax took home the Best Director award for his musical 'Annette'. The film that opened the festival follows a tragic story about a celebrity couple played by Adam Driver and Marion Cotillard, whose clashing careers create rifts in their relationship.
The Worst Person in the World – Best Actress Winner


Norwegian star Renate Reinsve swooped up the Best Actress honours for her luminous turn in 'The Worst Person in the World'. The film follows a young woman who judges herself harshly for being unable to decide between lovers, career paths and whether she wants to raise a family.
Nitram – Best Actor Winner


'Nitram', directed by Justin Kurzel and starring Caleb Landry Jones paints an unconventional portrait of a mass killing as it tracks the mental disintegration of Australia's notorious mass murderer. Inspired by the true story of an Australian man, Martin Bryant who killed 35 people and injured several others in the Port Arthur Massacre, it won Caleb the Best Actor Award.
Memoria – Jury Prize Winner


Apichatpong Weerasethakul's 'Memoria' starring Tilda Swinton that won the Jury Prize is about a Scottish woman who begins to notice strange nocturnal sounds while she's visiting her sister in Colombia. Weerasethakul stated that the inspiration behind the film is largely based on fears people harbour and their wild imagination. Weerasethakul shared his award with Nadav Lapid 'Ahed's Knee' that also tied for the special Jury Prize.

Drive My Car – Best Screenplay Winner


Japanese director Ryusuke Hamaguchi was awarded the best screenplay for his three-hour adaptation of Haruki Murakami's 'Drive My Car', which finds new depths in the author's 40-page short story.



Director Paul Verhoeven returned to Cannes with 'Benedetta', one of the most talked-about films of the festival. Staying true to his style of storytelling, this controversial erotic thriller follows a nun in the 17th century who performs miracles amid a plague. However, things take a surprising turn when a new arrival enters the convent.
The French Dispatch


Wes Anderson's comic tribute to a bygone era of journalism was not only one of the most anticipated films of the festival, but it also earned a 9-minute standing ovation. Set in a fictional 20th-century French city, the comedic anthology brings to life a collection of stories published in the final issue of a literary magazine. The film boasts of a star-studded cast including Bill Murray, Tilda Swinton, Timothee Chalamet Benicio Del Toro and Owen Wilson.