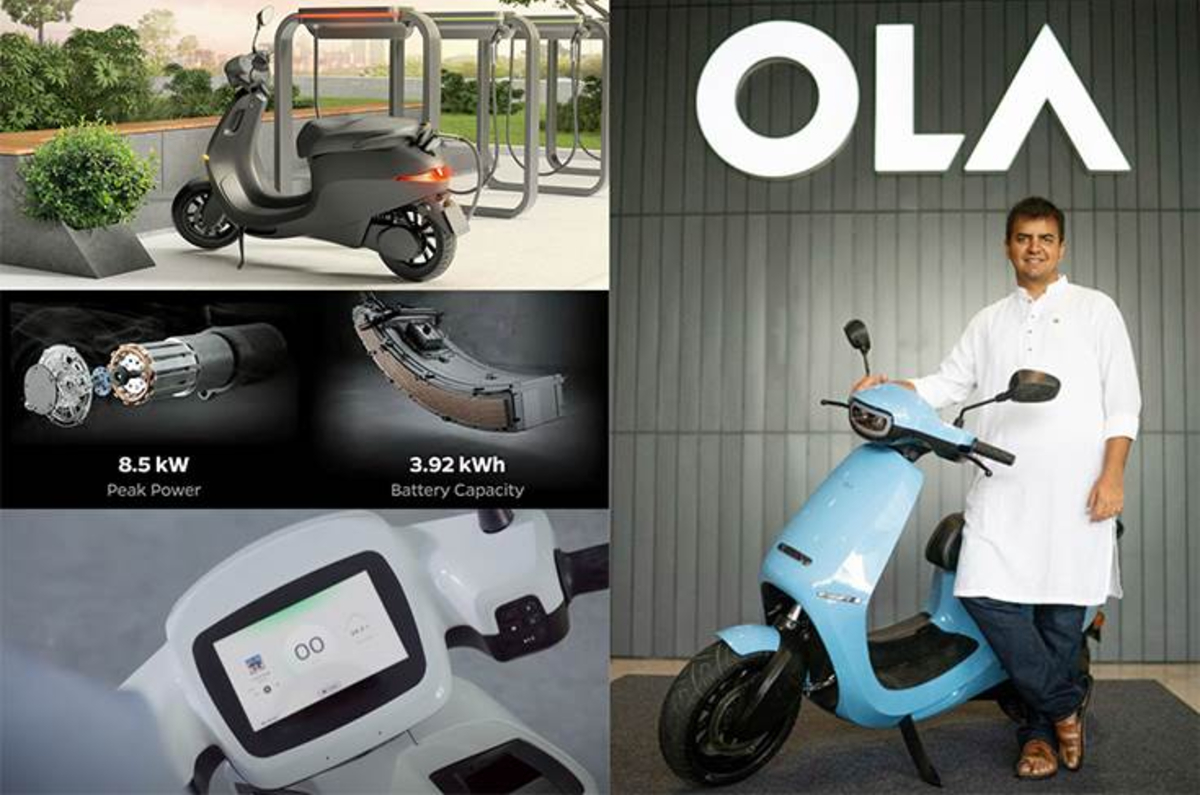 About 15 months after the company had first announced its entry into the Indian electric vehicle market, it launched its S1 and S1 Pro e-scooters. It was in May 2020, that Ola had acquired Etergo BV, an innovative electric scooter OEM based in Amsterdam, Netherlands.
Launched in two variants – S1 and S1 Pro – at Rs 99,000 and Rs 1,29,999 respectively (ex-showroom, including FAME II subsidy but excluding state subsidy), the Ola electric scooter takes the pricing battle to the conventional IC-engined scooter segment.
In many states including Maharashtra, Gujarat, Tamil Nadu and Delhi, which have announced EV policies and are offering subsidies for purchase of electric two-wheelers, the Ola S1 will be much more affordable than many petrol scooters. For instance, after state subsidy in Delhi, the S1 would cost Rs 85,009, whereas in Gujarat it would only cost Rs 79,000. This ex-showroom pricing of the Ola e-scooter ducks under India's best-selling scooter, the Honda Activa 125, which has an on-road price in Gujarat in the Rs 83,312 to Rs 90,921 range.
Looking to make a difference
Ola chairman and Group CEO Bhavish Aggarwal clearly has the fossil-fuelled scooter industry – and also the existing electric two-wheeler competition – in his crosshairs.
In his remarks at the virtual launch of the Ola e-scooter, he said: "Our lifestyles are having a major impact on the environment around us. How do we reverse climate change and also advance our development as a nation? Today vehicles consume 12,000 crore litres of fuel every year in India. To solve climate change, we have to get away from this vehicular pollution."
"We are building the world's largest two-wheeler factory which will have 15 percent of the world's two-wheeler production with production of 10 million scooters annually or one scooter every 10 seconds. This scale is the only way we can bring the electric revolution here fast and make electric two-wheelers accessible to everybody. With our Future Factory, we will also usher in a new modern era of Industry 4.0. The past paradigms of manufacturing were built in China, but the future of manufacturing will be written here in India," Bhavesh adds.
He further said, "Almost 80 percent of the vehicles sold in India are two-wheelers. We sell around 20 million two-wheelers a year and yet only 12 percent of our population owns a two-wheeler. As we develop as a nation, we need to ensure many more people get access to a two-wheeler. But we can't make them gasoline two-wheelers. We need to ensure they are electric two-wheelers."
Taking on the ICE and EV competition
The Ola chairman did not mince words when describing the existing petrol-engined scooter market in India and had a comment for current electric two-wheeler rivals too.
Bhavesh said: "Despite this huge market (in India), scooters, which are essentially urban mobility vehicles for the youth, haven't been innovated upon for decades. These vehicles, the ones which are currently in the market, are completely out of sync with the aspirations of India – boring, dull, slow, clunky and just don't represent the future." 
He added, "What's more, the electric vehicles, which were supposed to be built for the future and currently in the market, are even worse than their ICE counterparts in almost every aspect. Our goal at Ola has been to build products which are both sustainable and also revolutionary compared to what exists in the market. We have designed the scooter that has the best design, performance and technology. Quite simply, it's the best scooter ever built – the Ola S1 – and it will change what you ever expect from a vehicle."
Ola's Mission Electric pledge
Aggarwal used the platform of the e-scooter launch to announce 'Mission Electric' – "a pledge that no petrol two-wheeler will be sold in India after 2025. This is a mission that we are putting forward to the industry and to the consumers to reject petrol and fully commit to electric."
Ola Electric will officially open the Ola S1 for purchase from September 8, 2021, and will start delivering across 1,000 cities and towns in October. Till then, the Ola S1 is available for reservation at Rs 499. On July 17, the company announced receiving a record 1,00,000 reservations within the first 24 hours of opening bookings. With the Ola e-scooter's aggressive pricing strategy, it's over to the two-wheeler buyer now. 
Challenges remain for Ola Electric though. Given that by now it would have received a good number of bookings over and above the first 1,00,000, the company now has to deliver on the massive market buzz it has created. Will the direct-to-customer sales model for a mass-market player click in India? What is the aftersales market strategy? 
As per the Society of Manufacturers of Electric Vehicles, in FY2021, a total of 1,43,837 electric two-wheelers were sold in India, down 5.37 percent year-on-year. With the likes of Ather Energy, Ampere Electric and Hero Electric already having expanded manufacturing capacity or having announced plans to do so, is the electric two-wheeler industry in India headed for overcapacity?
Also see:
Ola Electric scooter first look video