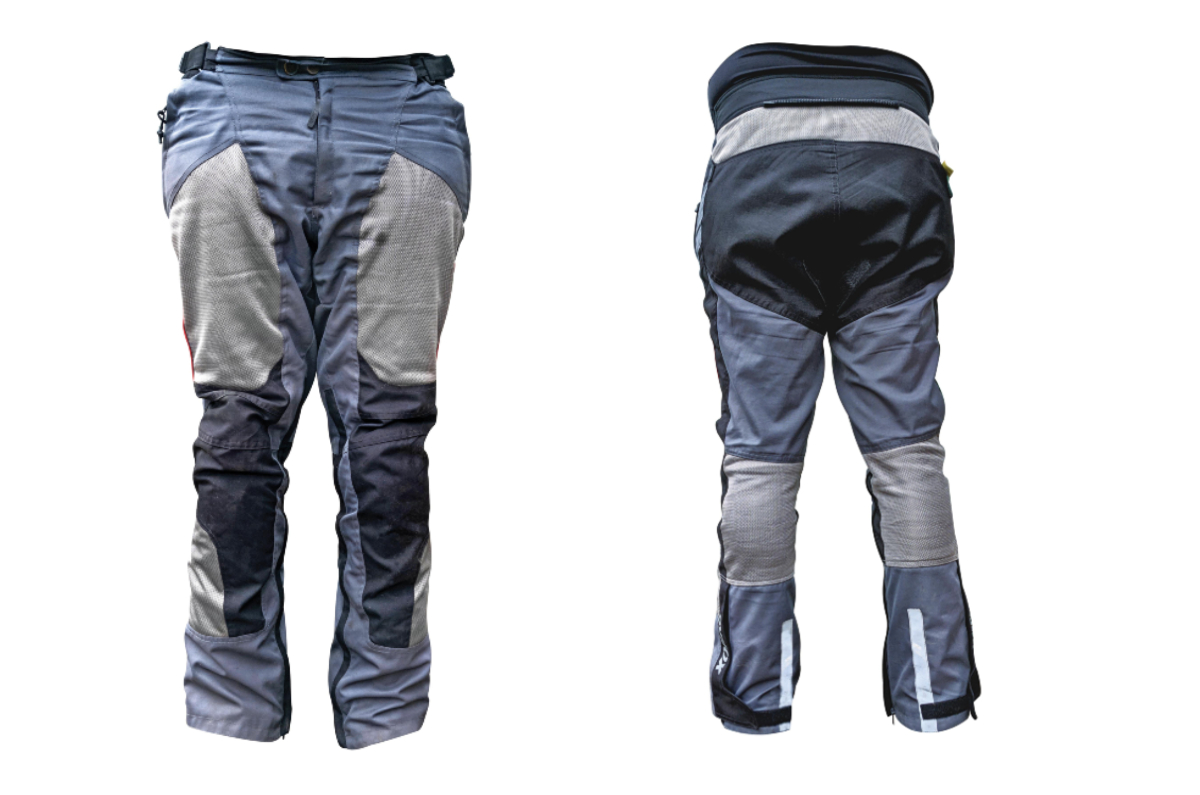 When it came to choosing riding gear, I'd always trawl through the Internet for the best deals on international brands. They had proven quality, functionality and a certain level of desirability sewed in, which made it a no brainer to me. However, in recent times, I've noticed that Indian brands such as Rynox have come up with rather compelling products. So, in came the Storm Evo, Rynox's flagship textile riding pants. 
These pants are made of 600D PU coated polyester and have extensive mesh panels. The latter is something I consider imperative while choosing riding pants, given our hot weather. The mesh panels are thoughtfully laid out, with the most prominent mesh panel at the front of the pants, followed by the calf and shin area. A horizontal mesh panel extends across your lower back as well. I found them to be quite effective, even on hot summer days.
Velcro straps for snug fit.
The fit is another aspect that I liked. Firstly, putting on the pants is a simple and easy affair, as the two-sided zipper opens all the way to the knees. This also makes it convenient to wear or take off riding boots. Once these long zips are shut, a Velcro flap helps adjust the fit at the bottom. At the top, two Velcro waist adjusters and a couple of buttons allow a decent range of adjustability. Speaking of, these pants feature Rynox's KneeSlap Velcro mechanism, which allows adjustment of the armour as per your knee and shin position. I've found this to work well, with getting the armour the right position, whether I'm on a cruiser or scrunched up on a superbike. 
All said, one of the big reasons why these pants have me leaning towards them is the Knox Micro-lock CE Level 2 armour they offer on the knees, shin and hip. This level of protection offered by a Rs 7,550 riding pant makes it good value. In comparison, my Alpinestars Striker Air mesh pants get CE Level 1 armour for the knees and a basic foam padding for the hips. They cost Rs 11,500. 
What also makes the Rynox Storm Evo a sweet deal is the detachable inner warm liner and an outer waterproof liner that it comes with, at no extra cost. I've only managed to test the waterproof liner on a decently wet day in Mumbai, and they served the intended purpose.
Adjustable knee armour position.
On the whole, I'm impressed with the Rynox Storm Evo pants. They look good, fit well and are comfortable enough to be worn all-day long. Even in terms of storage, the two zippered pockets are big enough to stow my keys, my wallet and a small sanitiser bottle. 
More importantly, these pants have also held up pretty well to the abuse that comes with testing motorcycles. The only sign of wear is seen in the stitching on the reflective strip that has come loose rather easily. I'd attribute that to my overzealous scrubbing while cleaning the pants. 
For the price and as a daily-use textile riding pant, the Rynox Storm Evo has proven itself as a product worth considering.
Where: www.rynoxgears.com
Price: Rs 7,550