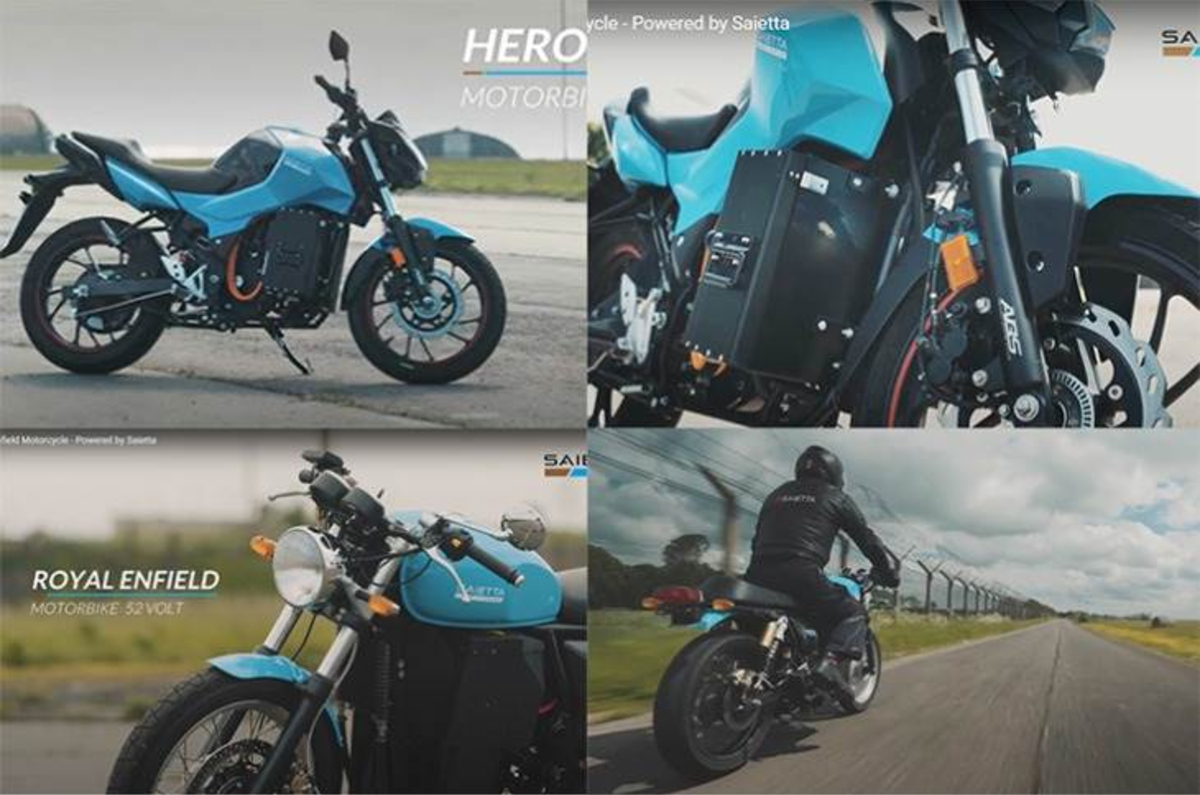 British electric mobility innovator Saietta Group, which has developed its highly efficient, mass-producible Axial Flux Technology (AFT) e-motors, has tested the technology on a range of vehicles including the made-in-India Hero Xtreme 160 R and Royal Enfield Continental GT motorcycles.
Axial Flux Technology said to be highly efficient

Compact and easily integrated varienty of e-mobility applications.

Hero Xtreme EV gets swappable battery
Saietta , in March this year, inked a partnership with leading Indian Tier 1 supplier Padmini VNA. The commercial agreement will see Padmini partner with Saietta to develop new opportunities in India's electric two-wheeler market. Padmini's customer base includes many of India's two-wheeler OEMs including Hero MotoCorp, TVS Motor Company, Bajaj Auto and Royal Enfield.
Saietta says it has delivered a step change in motor performance for EVs. Its AFT high-tech electric motors have been shown to provide greater efficiency while also being light, compact and easily integrated into a wide range of e-mobility applications.
Powerful, torque dense, compact and robust, these motors can be easily integrated into lightweight zero-emissions vehicles, including scooters, motorcycles, rickshaws and micro-cars. Engineered to make EVs more technically and commercially feasible, Saietta says AFT can play an integral role in cutting emissions and air pollution in densely populated, high-traffic urban areas.
Testing AFT on Indian motorcycles
Saietta's first AFT e-motors – the AFT 140 and AFT 110 – are designed to offer greater efficiency while providing a reliable, cost-effective propulsion solution with zero tailpipe emissions. Their exceptional urban duty cycle efficiency reduces the battery capacity and hence the cost of the battery pack required for a given range.
The company has tested the high-power 52 volt, AFT 140 in the Royal Enfield Continental GT, which, it says, is a perfect fit for this innovative electric drivetrain. Saietta has replaced the defunct clutch lever in the electric-powered motorcycle with an electric brake, which can be leveraged to shed speeds while regenerating the on-board battery pack. "It's extremely intuitive and very fun to use," remarks Saietta Group CEO, Wicher Kist in a video released by the company.
Coming to the Hero Xtreme, Saietta has incorporated its 48 volt, AFT 110 electric drivetrain into this 160cc performance-commuter motorcycle popular in the Indian market. "The key innovation in this particular prototype is the swappable battery. We strongly believe that electrification of everything is linked to swappable battery solutions, and it is our duty to demonstrate that; it is completely feasible and enjoyable."
Targeting EV OEMs in Asia for AFT
As vehicle manufacturers scramble to decarbonise and develop new EVs, there is a significant and growing demand to make EV technology more accessible. Affordable electric propulsion and battery systems are key to reducing EV cost and enabling widespread adoption. This is an essential step for many emerging economies and cities that are gripped by chronic air pollution, especially in Asia.
Within these regions, the most common forms of transport are lightweight two-, three- and four-wheeled vehicles, which are used by millions of people daily. Following extensive market research, Saietta believes the fastest way to tackle the emissions crisis is to provide viable electric motor alternatives for small, internal combustion engine powered vehicles.
For their size and weight, the AFT motors provide substantial torque and can sustain high power output through the addition of a simple water-cooling system. Perhaps most importantly, they have been specifically designed for highly automated production to further drive down cost, ensuring the perfect combination of practical performance at a price point that is viable for the target markets.
Also see: