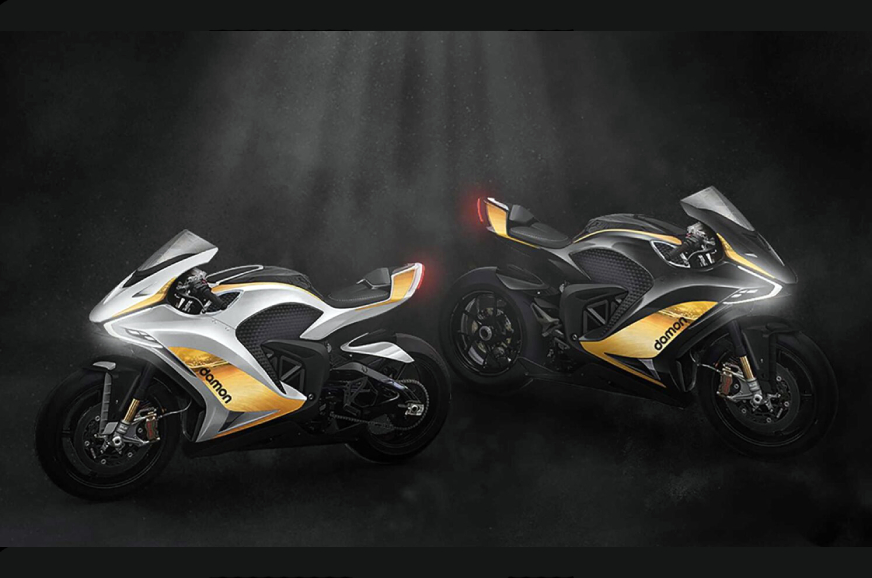 Damon Electric Motorcycles has unveiled two, limited-edition versions of its groundbreaking electric motorcycle, the Damon Hypersport HS. The Damon Hypersport Arctic Sun and Midnight Sun are part of the company's Hypersport Premier range, a series of limited-edition builds of the original Hypersport that was showcased at CES 2020. 
The Arctic Sun and Midnight Sun feature white or black paintwork with contrasting gold leaf-like stripes that accentuate the lines on the bike. Also, these being Premier range models, they are loaded with features, including the Copilot system and the Damon Shift technology.
The CoPilot feature consists of a 360-degree warning system that scans the bike's surroundings using cameras, radar and other sensors and uses the data to alert riders of threats. Featuring an onboard neural net, these sensors also collect and tag traffic behaviour, road conditions, and uses something the bike maker calls 'rider intent data' which maps the rider's behaviour and riding style. The Shift technology lets you electronically change the riding position as desired.
The Damon Hypersport aims to sit at the top of the performance e-motorcycle chart, and a glance at its specifications does make it come across as a strong contender. The Damon Hypersport has a PMAC liquid-cooled motor that produces a peak power of 160kW. The battery capacity is pretty impressive as well, with a 21.5kWh output. 
With over 200hp and 200Nm of torque on tap, the Hypersport sprints from 0-100kph in under 3sec. Top speed is 322kph, while the range is said to be over 322km (city and highway). The bike maker also states that the battery can be fully charged in under three hours.
These figures are mighty impressive and it looks like the Canada-based Damon Electric Motorcycles isn't just stopping at this. The company recently acquired the IP portfolio of Mission Motors, and also made the Mission R that competed at the Isle of Man TT Zero. In addition, Damon has also recruited talent from the now-defunct Alta Motors, a company that produced electric off-road competition models, including Motorcross and Enduro machines. Could this mean that Damon Electric Motorcycles would come up with an electric off-road motorcycle in the future? Only time will tell.