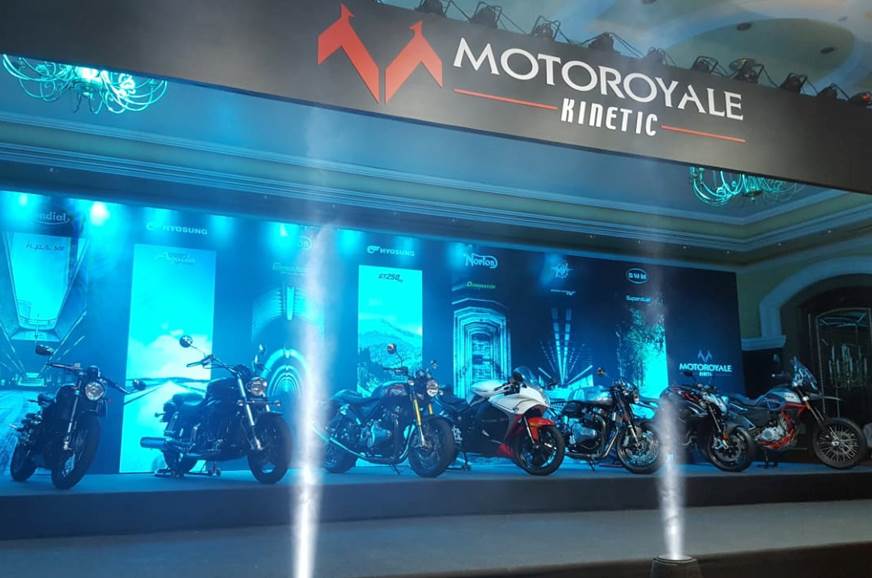 14th Feb 2020 6:42 pm
The multi-brand distributor will have almost no bikes to sell once BS6 regulations kick in.
A couple of months ago, I wrote a column about how the arrival of BS6 was going to make life very hard for big-bike businesses in India. Everyone will be affected to varying degrees, but it looks like MotoRoyale will be hit the hardest; because we can now report that the company will have no bikes to sell in India post April 1 2020.
MotoRoyale is part of the Kinetic group and is India's only multi-brand motorcycle distributor. The company focuses on premium products and it currently has five brands under the umbrella – Hyosung, FB Mondial, SWM, Norton and MV Agusta. MotoRoyale tells us that it hopes to have one new BS6 product ready by June; but essentially, none of MotoRoyale's brands are likely to have Euro 5/BS6-ready products any time soon. But that's not the only reason the company finds itself in a very difficult position.
The Norton disaster
Things took a severe turn for the worse a few weeks ago when news broke that Norton Motorcycles has been put into administration in the UK. Under British law, a company goes into administration when it becomes insolvent, and is put under the management of a government authorised 'Licensed Insolvency Practitioner'. Norton finds itself in this position as it has failed to secure the backing it needs to continue operating. Further, the British company, owned by Stuart Garner, is under investigation for allegedly fraudulent sources of funding running into millions of pounds.
This was particularly bad news for MotoRoyale because the company had inked a deal with Norton to locally assemble some big bikes, followed by full manufacture of Norton's upcoming new small capacity motorcycles. We understand that MotoRoyale had already invested in tooling for the Commando 961 and the upcoming 650cc models and that plenty of work has already gone into developing the manufacturing facility for the project.
MotoRoyale is unlikely to be involved in the investigations occurring in England. However it has conveyed to the UK based administrators that its relation with Norton was strictly reserved to operations based out of India.
MotoRoyale MD Ajinkya Firodia tells us that they are waiting till the Norton business is sold to a new buyer and that they expect the operation to continue thereafter. However, this is likely to take quite some time and given the fact that the company is also under investigation for fraud, there may be some further delays in the process.
No MV Agustas either
At this stage, Norton is nowhere close to as important for MotoRoyale as MV Agusta is. MotoRoyale is best known as the official sales and service partner of the exotic Italian brand in India, but they won't have any MVs to sell for quite a long time. As we understand it, MV Agusta will update its line-up to Euro 5 regulations in a phased manner but this is only expected to happen by the end of the year – the Euro 5 regulations only kick in on January 1, 2021 for existing products. That leaves the very real possibility that MotoRoyale will have no MVs to sell for the rest of 2020. 
Further still, there are rumours circulating that MV Agusta and MotoRoyale have ended their agreement, but Firodia tells us that MotoRoyale fully intends to continue as an MV Agusta representative and that they will continue to provide support in terms of service and spares. We also reached out to an MV Agusta Italy representative who simply replied to our mail simply stating, "Concerning the Indian market, we are in a transition period and we are evaluating new plans for the future". That certainly doesn't sound good.
The other brands
As for the rest of the brands, Hyosung hasn't had any decent products in our market for a number of years now and while Firodia tells us that they are developing new Euro 5-compliant 300cc motorcycles, these are also likely to be ready only by year end. The same timeline will probably apply to FB Mondial and SWM, both very niche brands, each with only one product in India. Firodia tells us that FB Mondial will have one Euro 5 product ready by August 2020, but MotoRoyale is currently evaluating whether that product makes sense for our market.
What it all means
MotoRoyale never sold in big numbers, but the exclusivity of their brands meant that the sales numbers trickled in enough to keep the showrooms running. The company opened its sixth dealership in Navi Mumbai last August and had plans to open another six by the end of this year. Those plans have almost certainly been put on the backburner, but the bigger question is what this means for MotoRoyale's existing dealer network and how they can possibly stay operational with little to no products to sell for many months ahead.