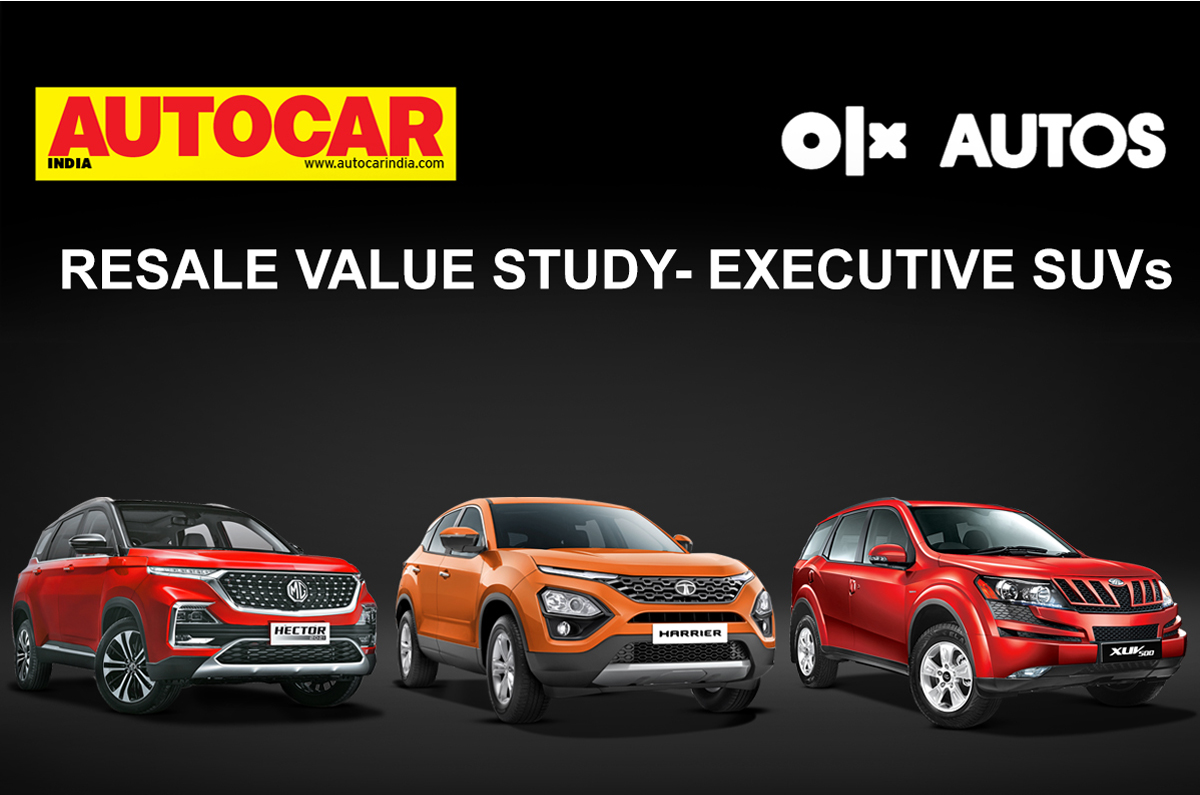 The executive SUV segment comprises four competitors – the Tata Harrier and MG Hector, both of which launched in 2019, the Jeep Compass, which made its India debut in 2017, and the Mahindra XUV500, which has been around since 2011 and is now replaced by the XUV700. The study of this segment threw up some very interesting findings, including a car that has actually appreciated.
Tata Harrier 
The average resale price of a 2-year-old Tata Harrier in 2021 is Rs 14.99 lakh, which is 16.39 percent lower than its 2019 average on-road price, and this is par for the course.
MG Hector
MG's low depreciation value, on the other hand, comes as quite the shocker, even showing an appreciation in value for the diesel-manual variant. However, this is mainly due to the SUV's substantial price hikes since its launch, coupled with the fact that the Hector has a strong demand in the new car market and there currently is a long waiting period for it. These large price hikes have seen owners ask for lofty values that are sometimes the same or even slightly more than what they originally paid for the SUV. For instance, the on-road price for a new Hector today is between Rs 80,000 to Rs 1.60 lakh higher than what it was in 2019.
Jeep Compass 
The most expensive car here, the Jeep Compass, sees a varied level of depreciation. The base petrol-manual variant holds on quite well to its value, whereas the pricey top-spec diesel-automatic is the quickest to fall.
Mahindra XUV500
Being the oldest in its segment by far, the Mahindra XUV500 sees the highest depreciation rate. It gets a diesel-manual and an automatic option, and it's the latter that holds better value. Given that the SUV is at the end of its lifecycle and that its new-generation replacement has been talked about for some time now, the high depreciation rate is only to be expected.
Average resale price and depreciation value in 2021
Model
Variant
MY19
Depreciation %
MY18
Depreciation %
MY17
Depreciation %
MY16
Depreciation %
Tata Harrier
2.0D MT
Rs 14.99 lakh
16.39
–
–
–
–
–
–
MG Hector
1.5P MT
Rs 15.95 lakh
3.56
–
–
–
–
–
–
1.5P AT
Rs 18.45 lakh
3.57
–
–
–
–
–
–
2.0D MT
Rs 18.52 lakh
+2.08
–
–
–
–
–
–
Mahindra XUV500
2.2D MT
Rs 14.56 lakh
24.10
Rs 13.32 lakh
29.29
Rs 10.76 lakh
40.46
Rs 9.25 lakh
49.92
2.2D AT
Rs 17.35 lakh
20.34
Rs 15.52 lakh
26.31
Rs 12.33 lakh
39.60
Rs 10.82 lakh
47.96
Jeep Compass
2.0D MT
Rs 20.33 lakh
15.80
Rs 16.24 lakh
32.70
Rs 14.11 lakh
37.95
—
–
2.0D AT
Rs 22.30 lakh
30.94
–
–
–
–
–
–
1.4P MT
Rs 17.04 lakh
9.99
Rs 13.02 lakh
29.26
–
–
–
–
1.4P AT
Rs 18.46 lakh
23.87
Rs 15.63 lakh
34.54
Rs 15.09 lakh
34.80
Notes: Depreciation percentages are based on original on-road prices
Also See:
Autocar India, OLX Autos team up for comprehensive Resale Value Study