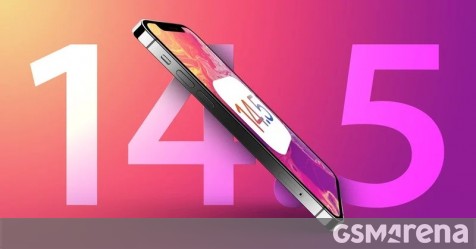 Nobody was ever in doubt that Apple's new anti-app tracking (ATT) feature, rolled-out with iOS 14.5 would have a major impact on the way targeted advertisement works and consequently, any company with a business model built around it. Like Facebook and its subsidiaries, like Instagram – some of the most severely-affected parties and naturally among the most vocal against ATT.
Having a hunch that a certain change is significant, though, is not the same as getting some actual data on just how significant it is. The Verizon Media-owned Flurry Analytics has its mobile analytics services integrated in over 1 million mobile applications and collects aggregate insights on over 2 billion mobile devices each month. According to Flurry's data, just around 12% of global users have allowed app tracking for apps that requested it on their devices post the iOS 14.5 update. And that number is just 4% in the US.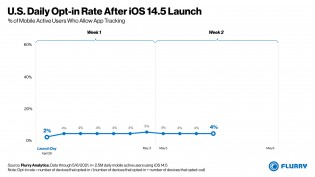 Anti-app tracking daily opt-in rate
Just to clarify, in case you are not familiar with how ATT works, it is basically like a permission pop-up that every app has to present the user before being able to gain access to their anonymized (in theory) tracking ID to be able to associate that with in-app activity, as well as activity within other apps and services. If a user chooses to deny tracking, the app in question can't properly "know" the user. That is to say "know" them in the ad-targeting sense. Opting out of app tracking does not disable say Facebook or Instagram or any other app's ability to see and potentially use any of the personal data you have shared with them in your profile or any connected authentication service. It just means that the particular app can't, for instance, know that you just spent the last few hours browsing for a new hat online and then present you with ads for hats. Also worth noting is that disabling app tracking does not disable ads. Those will still be there, just less targeted to you, personally.
These are definitely points worth clarifying, even if they don't quite add-up as neatly as Facebook might want you to believe in its ad campaign to small businesses reaching users through Facebook. We won't dig too deep into the broader debate on targeted online advertising and privacy. It is a subject definitely worth researching, though, since it has many facets. While outright blocking tracking might sound perfect for end users on the surface, it could make more than a few online services unsustainable in their current form. Just food for thought. Flurry has some more statistics somewhat related to this as well – the percentage of iOS 14.5 users who have taken the time to set their app tracking preferences to "Restricted" altogether in settings. These are 5% worldwide and 3% in the US.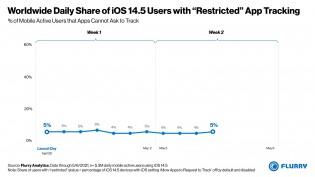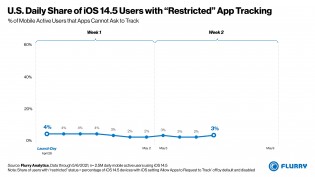 Anti-app tracking users with "Restricted" setting