It his feels just like a dream – bright blue skies, puffy white clouds, exceptional air quality and perfect visibility. And that hyper-cleanliness you normally get in a dream? That's there too. Once on the expressway, things become even more surreal.
There are almost no cars or trucks around, and on the long stretches, I can easily see three or four kilometres ahead. Piloting the Jeep now feels like flying a medium-sized, twin-engine bomber. I soon realise the safest way to not constantly run at 180 or 190kph is to use the cruise control. Once engaged, all it takes are occasional or small inputs at the steering wheel.
Auto pilot: Cruise control is a boon on empty stretches.
And I just have to monitor the systems and watch my surroundings; the 'auto pilot' actually does a brilliant job. The thumb controls do take some getting used to. I've seldom used them before, and you have to wait for it to get into the right gear. But once it settles down, the pace seems easy and languid as we fly along to our destination.
Wait a bit: Plenty of grunt, but engine is slow to respond.
I do see an occasional truck as I start my ascent of the ghat section, and the engine RPM rises on some of the steeper bits, but then I take the Compass out of its Cruise mode and really begin to drive it from apex to apex, just like in the old days when the expressway was new and truckers found the exorbitant ticket price prohibitive.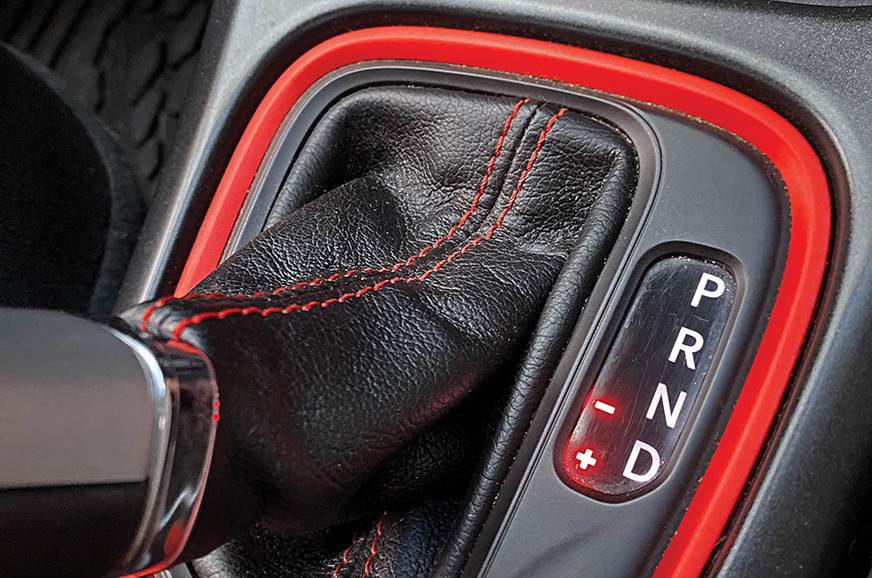 Slow-n-steady :Gearbox takes its time even in manual mode.
As I pick up the pace, the Trailhawk seems to come alive. Remember, this is the version with the slightly raised suspension and on/off-road tyres, but the poise with which it sits comfortably in corners, even at speed, is simply baffling. It just feels so comfortable and relaxed, even when the tyres are howling in protest. What makes the experience even nicer is that it delivers a huge amount of confidence and connect via the steering wheel, and the brakes are nicely set up too, so you can sort of feel your way into a corner. Wish the automatic gearbox were quicker though. While it has nine speeds and a 'tiptronic' function, it feels like it is in sleep mode at times. Not nice.
Hello Operator: Voice commands work well if you are loud and clear.
What I also use more of on this lockdown drive is the voice assist. As long as I am slow, deliberate and clear, it allows me to dial contacts with my phone in my pocket. Some names are more difficult to register than others, but what it does, and nicely, especially when the system is unsure, is to throw up a bunch of suggestions. Quite impressive actually.
The lack of traffic also means the way back – expressway to home – is also done in half the time. And the best bit is I didn't even need to go fast. Traffic-free roads, who knew?