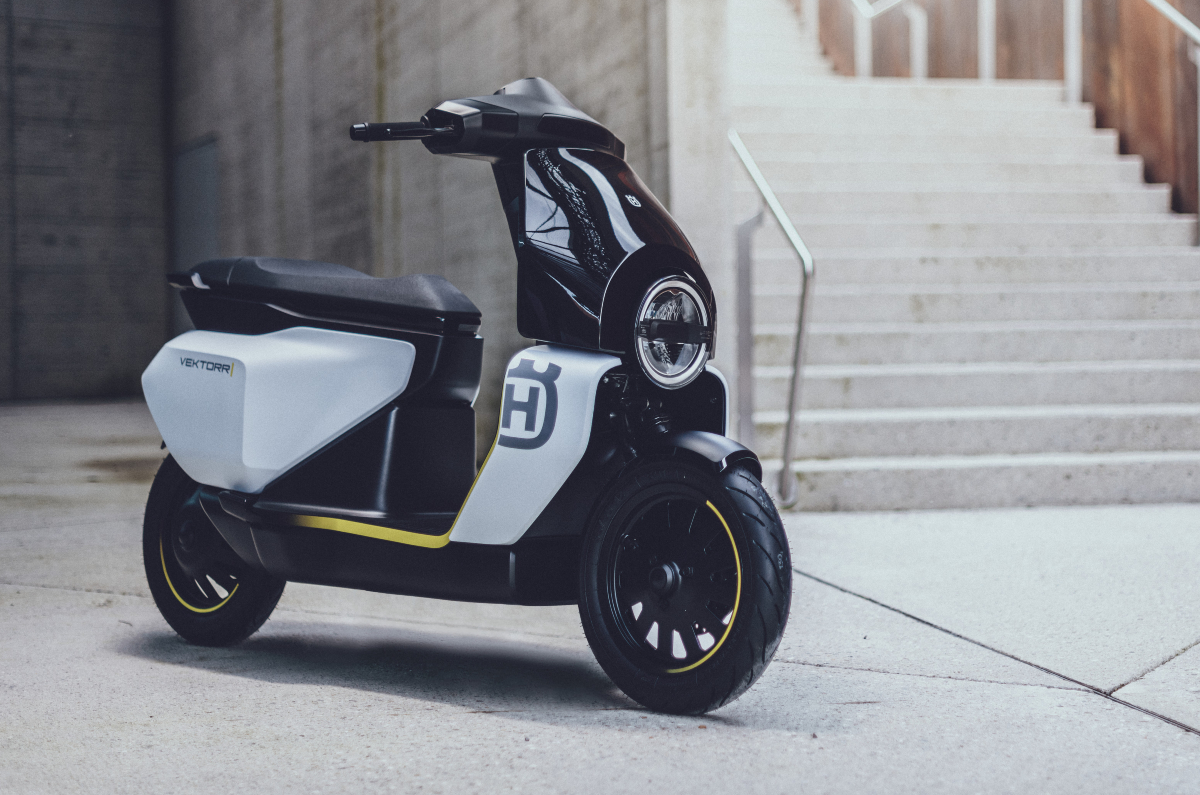 Husqvarna has taken the wraps off the Vektorr concept electric scooter, giving us a peek into what its future EV would look like. Based on the Bajaj Chetak electric scooter, the Husqvarna Vektorr concept brings its own, unique flavour to the EV table.
Husqvarna Vektorr: The concept 
The Husqvarna Vektorr concept scooter has been showcased within days of the unveiling of the e-pilen electric motorcycle, and features a design language that's synonymous with modern Husqvarnas.
The front end, for instance, gets a typical Husqvarna round LED headlamp, seemingly plucked off the Svartpilen and Vitpilen. The rest of the body panels, including the rounded edges and creases as well as the beak-like tail section highlights Husqvarna's approach towards simple yet attractive designs. The white and black colour combination, with a lick of bright yellow is neatly executed.
However, whether this design, or the extra-long single piece seat makes it to the production variant remains to be seen.
Husqvarna Vektorr: The underpinnings
The Vektorr is based on the Bajaj Chetak and is expected to share the same underpinnings. The concept also seems to get the same trailing link front and monoshock rear suspension as on the Bajaj Chetak. 
Husqvarna says the Vektorr concept is powered by a 4kW motor that can propel the scooter to 45kph, while the battery range is 95km.
That said, if the concept scooter is using the same 4kW motor from the Chetak, which it almost certainly is, then it should offer similar performance and range as the Bajaj. To reiterate, the Chetak has a top speed of around 70kph while the battery range is 95km in Eco (85km in sport).
Husqvarna Vektorr: Production and launch 
Husqvarna is expected to launch the production variant of the Vektorr in 2022. The scooter will be manufactured at Bajaj's factory, as part of the Bajaj-Pierer Mobility plan. Bajaj, for the uninitiated, holds a stake in Pierer Mobility, part of the KTM group and they recently announced plans to become the world leader in the 4 to 11 kW electric two-wheeler space.