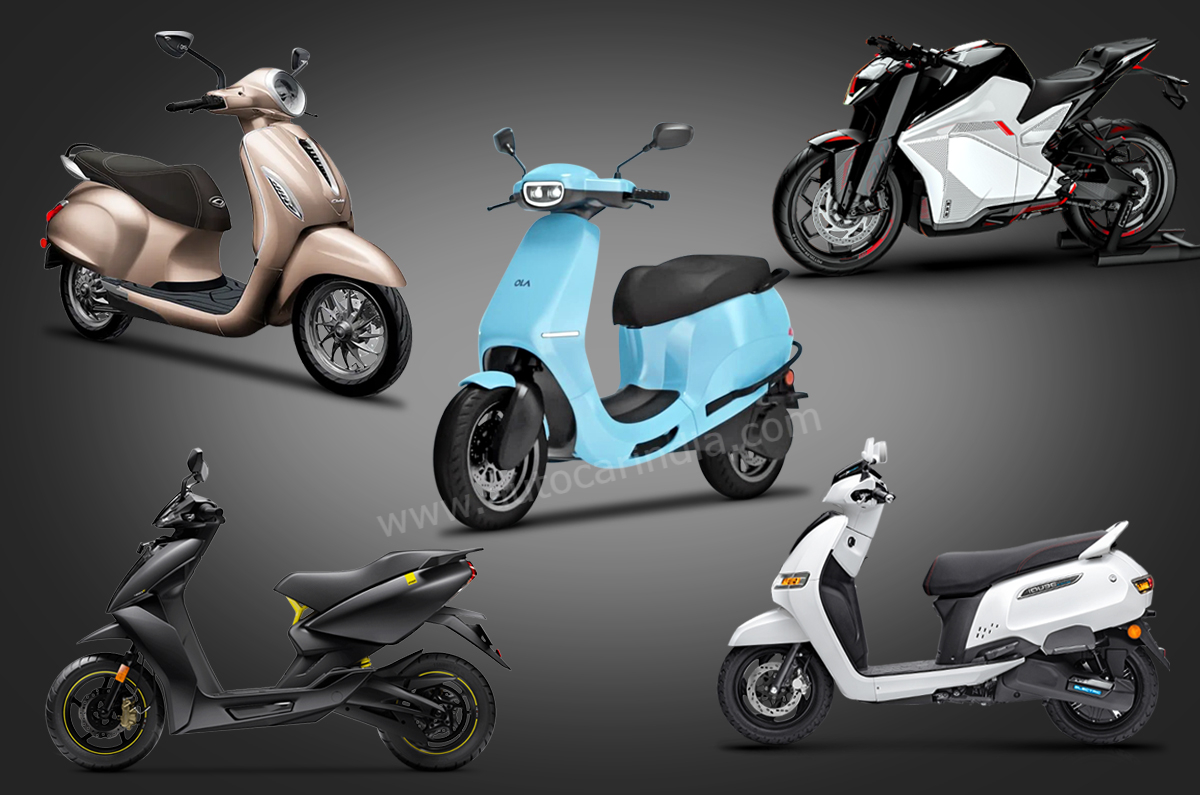 Increasing sales numbers, large scale bookings and big new names in the EV space are indicators of where the two-wheeler industry is headed in India.
Ola has massive demand to address

Bajaj Chetak sold 1,723 unit in the last three months

Ultraviolette F77 launch scheduled for March 2022
To celebrate World EV Day, we have decided to look back, and forward, on the growing electric two-wheeler space in India. Not too long ago, the only electric two-wheelers we would see in the country were low-cost rebranded China-sourced ones. That has changed and how – we now have some premium offerings with impressive performance numbers.
Electric two-wheeler space in India: surge in sales
Back in July 2021, an analysis by our sister publication Autocar Professional of the 11 leading electric two-wheeler makers in India revealed that more units were sold in the first six months of 2021 (29,288 units) than in all of 2020 (25,598 units). However, major contributors to this list were offerings that are essentially lower-spec, China-sourced scooters from Hero Electric, Okinawa and Ampere.
That's not all, the Bajaj Chetak and TVS iQube also witnessed an uptick in sales numbers. The Chetak has clocked sales of 1,723 units since March as against 1,395 units last financial year. The TVS iQube, meanwhile, has gone home to 1,486 buyers as against 1,061 in FY2021. 
EV sales numbers could be blown out of water if Ola Electric and Simple Energy manage to convert their impressive booking numbers to sales.
Electric two-wheeler space in India: future look
Other promising electric vehicles that are scheduled to hit the market soon include the Ultraviolette F77. The TVS-backed start-up just announced that it is setting up its first manufacturing and assembly facility near Electronic City in Bangalore. Production of its electric motorcycle – the F77 – is said to begin in 2022 and the first batch of motorcycles are scheduled to enter the market in March, 2022.
Not too long ago, Hero MotoCorp also teased its upcoming electric scooter. The company has not one but multiple offerings including ones with battery-swapping tech being developed in partnership with Gogoro. While the Indian two-wheeler giant has not revealed a specific timeline for these products, they are expected sometime in 2022.
Ola Electric entered the market with its S1 and S1 Pro scooters that claim to change the game. While we have not had the opportunity to try out Ola Electric's products yet, they do seem incredibly promising on paper. Ola claims to have received over 1 lakh bookings in the first 24 hours, and if it manages to convert those into sales, it's set to change the two-wheeler market altogether. However, Ola Electric is yet to deliver its scooter and you can be sure to hear more about it on our website in the near future.
Simple Energy was another start-up that showcased its upcoming electric scooter just last month. The scooter is called the One and promises impressive performance and range on paper. The One has been priced quite competitively as well. Simple Energy claims that it had received 30,000 bookings in the first four days.
LML also recently announced its plans to make a comeback in the Indian market with plans to enter the electric two-wheeler space. While there are no details on the product, the company's plan is to introduce a "disruptive product for the upper-middle and urban segments of the society." We also know that KTM and Husqvarna are working on similar-spec electric two-wheelers as well, which are likely to be built in India. However, it still remains to be seen if these will be introduced to our market.
Also see:
Electric two-wheelers now more affordable due to FAME II revision
Honda, KTM, Piaggio, Yamaha working on unified standards for electric bikes