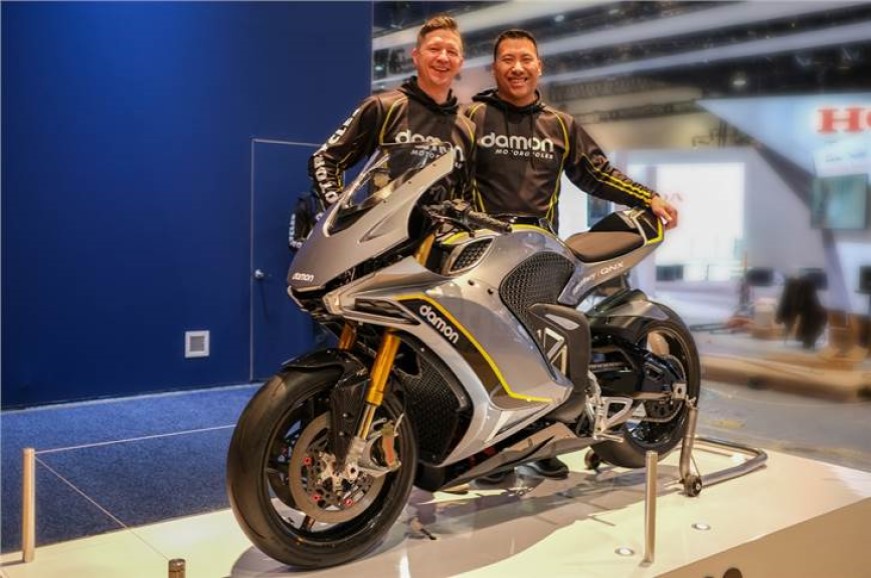 10th Jan 2020 6:25 pm
Unveiled in Las Vegas, the e-motorcycle features advanced technology including variable riding position and 360-degree warning system.
Damon Motorcycles, a Canada based company unveiled the Damon Hypersport HS electric motorcycle at the 2020 Consumer Electronics Show. The Hypersport HS boasts of some innovative features, including a variable riding position and an advanced warning system that informs riders about any potential hazards on the road. The warning system technology has been developed in association with Blackberry, and Damon calls it CoPilot.
CoPilot is a 360-degree warning system that scans the bike's surroundings using cameras, radar and other sensors and uses the data to alert riders to threats. Featuring an on-board neural net, these same sensors also collect and tag traffic behaviour, road conditions and something that the bike maker calls 'rider intent data' which maps the rider's behaviour and riding style. The brand hasn't released and more information on the latter just yet, but more on that when we know more. All the aforementioned information is sent to the rider by way of haptic signals on the handlebars, LED lights on the windshield and a 1080p rear-facing camera.
With its embedded 4G, Wi-Fi and Bluetooth connectivity suite, Damon also aggregates this data in cloud storage to improve overall system performance with over-the-air (OTA) updates sent back to each Damon motorcycle. Damon Motorcycles say just like "Tesla, updates are approved by each Hypersport's owner before going live on-board."
Speaking at the unveiling of the Damon Hypersport HS at the CES, ay Giraud, co-founder and CEO, Damon Motorcycles said, "We are on a mission to unleash the full potential of personal mobility for the world's commuters, while reducing rider incidents on the road. To address this, we spent the last three years developing an AI-powered, fully connected, e-motorcycle platform that incorporates CoPilot, our proprietary 360-degree warning system. By building it on BlackBerry's best-in-class technology that is safety certified, Damon motorcycles will be the safest, most advanced electric motorcycles on the market."
The Damon Shift technology is another interesting feature. It allows riders to electronically adjust the Hypersport's riding position while in motion.
The Damon Hypersport is comes with over 200hp and 200Nm of torque delivered from the get go, a top speed of 322kph and a range of more than 322km (highway) per charge, the Damon Hypersport is slated to become the most powerful long-range motorcycle ever. Pricing begins at USD 24,995 (Rs 17.95 lakh) before US state and federal EV tax credits.