I've always loved collecting backpacks, and it was during one of those random Instagram surfing sessions that I stumbled upon the Carbonado brand. This Bengaluru-based company has been around for a few months, and in that time, they've come up with some interesting products. The backpack you see here is the Carbonado GT2, their top-of-the-line product, made using materials such as 900D polyester fabric and a polycarbonate shell with the ability to withstand 1,000Nm (read, a lot!) of force.
The bag looks expensive too, and everything, from the stitching to the shine of the Ferrari F1-inspired 'Rosso Corsa' colour on the hard shell, to the clips, straps and waterproof zips, feels high-quality. The 900 denier construction also makes the bag pretty tough, and I find that it's quite easy to wipe off any dust collected on the bag with a wet cloth. The large hard shell also doubles as a canvas for stickers, which to me, are a great way of expressing oneself. Besides the red colour, Carbonado offers the GT2 with a number of other options, like skins or a variety of leather-finish hard shells, for a personalised look.
Wide opening, highly organised interiors.
Open the 20-litre bag, and you'll notice a soft-fabric lining that feels premium to the touch. The bag splits 180 degrees to make it easy to access all that's inside. There are two laptop compartments, one for a 17-inch laptop and another for a 15-inch one. Then there are multiple pockets and nets to hold chargers, a wallet, keys, books, and other paraphernalia. There's also a clever thermal pocket that's lined with a silver foil and can keep the contents hot/cold for up to 4 hours. I usually keep my lunch tiffin in it and I've found that the food remains warm until lunch time. The hard case pocket at the top of the bag is another thoughtful storage area for expensive, fragile items, such as sunglasses.
Once on the back, the bag sits comfortably as its padded straps (with zipped pockets for toll receipts or loose change) are easy to adjust. A sternum strap also helps take some weight off the shoulders and I've never felt the bag hamper my motion. This is especially true when I'm on a motorcycle. That said, I haven't got a chance to test its claimed high-speed aerodynamic shape on a supersport motorcycle. However, the downside to this very shape is that the bag doesn't have a flat bottom and that means it has to rest against a wall to be kept upright.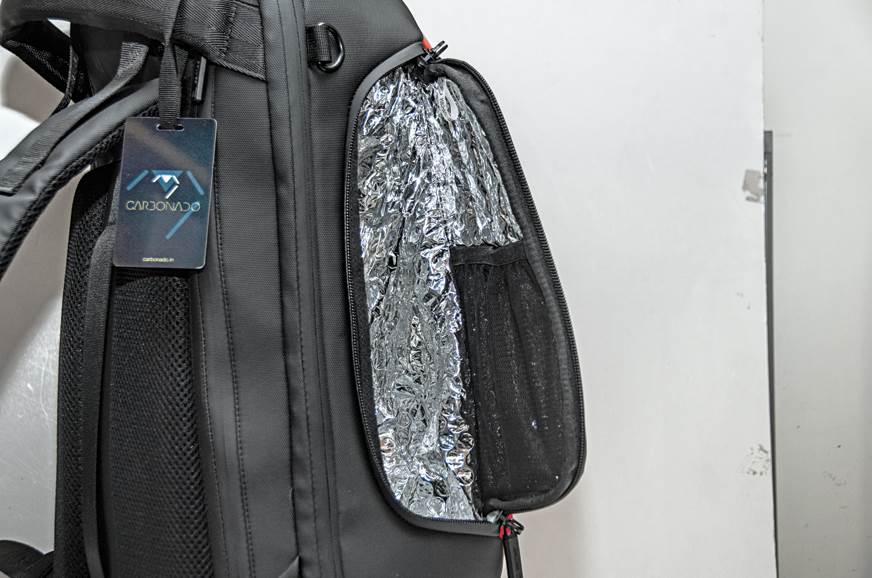 Thermal compartment insulates for up to 4 hours.
I'd have liked the provision to use a hydration pack, but, at Rs 4,399, the GT2 comes across as a great everyday bag. It may lack some of the motorcycle-specific bits like complete waterproofing, an extravagant harness system like you find on the Kreigas, or the cool-factor of an Ogio Hardcase, but let's not forget that those bags cost up to three times over the GT2's. It's not a dedicated motorcycle backpack, but it works quite well on one and for all you get, the GT2 is definitely worth the money.
Where: www.carbonado.in
Price: Rs 4,399
Also see:
Kreiga R25 motorcycle backpack review