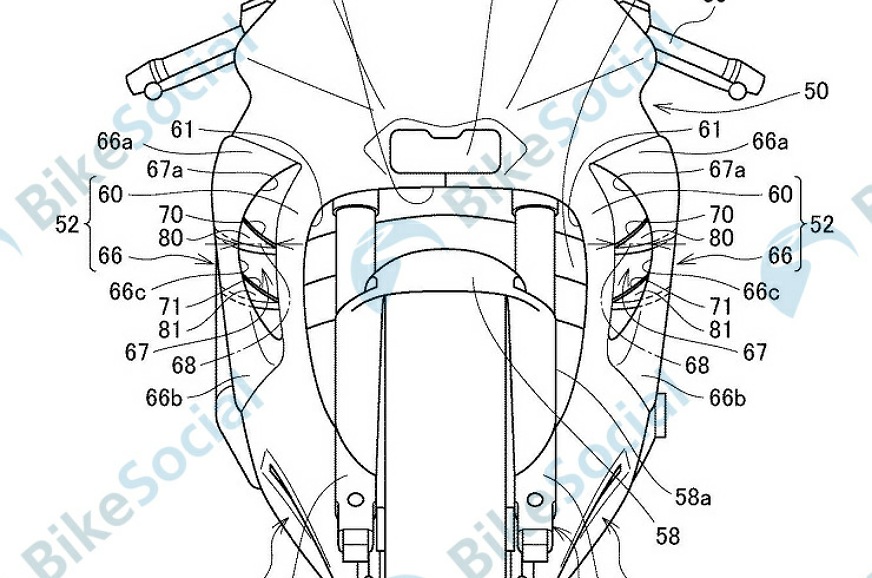 Honda is said to be working on a new generation superbike, and one of its biggest highlights is active aerodynamics. According to a leaked patent drawing that has surfaced online, Honda is developing a new superbike that features active aerodynamics and styling inspired by the Honda RC213V MotoGP machine.
Look closely, and you'll see two 'bi-plane wings' inside the fairing panels on either side. These wings are moveable, and they adjust depending on the scenario. For instance, during hard acceleration, the wings will extend out to generate maximum downforce to prevent the front wheel from lifting off the road. This allows the rider to keep the throttle pinned and charge ahead. The downforce being generated will also help in increasing front-end grip while going around corners. On the flip side, when outstretched, these wings will produce unwanted drag at high speeds, especially in a straight line, so at these times, they'll retract into a slot to minimise drag.
The mechanism to deploy or retract the wings is by means of cables operated by a servo motor, operated either by the motorcycle's ECU or by rider inputs through a switch on the handlebar. A computer-controlled system would be ideal, as it will help the rider stay focused on setting lap times, rather than bother about adjusting the wings.
Active aerodynamics are already seen in a number of supercars, such as the La Ferrari, which features computer-controlled wings. The new Honda superbike (widely touted as the next-generation Fireblade) could hugely benefit from an active aerodynamics setup.
The current crop of superbikes, such as the Aprilia RSV4 or the Ducati Panigale V4S/V4 Superleggera, feature fixed aerodynamic wings and these are said to have vastly improved the handling of these superbikes. It's not just superbikes; even supernakeds such as the new Ducati Streetfighter V4 have winglets for increased stability and grip, especially around corners. Honda's incorporation of active aerodynamics in its upcoming Fireblade will certainly move the game forward. In fact, we wouldn't be surprised to see a lot of other manufacturers develop active aerodynamics on their motorcycles, in the near future. That said, given the complexity and costs involved, such systems could be reserved for the motorcycles at the very top of the order.
The other juicy bit that Honda's patent leak reveals is the MotoGP-bike inspired styling with the headlamp located within the central ram-air tunnel. Also, the engine is said to be in an in-line-four format with variable valve timing. This should translate to good tractability without suffocating top-end performance.
While this new Honda superbike is still some time away, the prospect of active aerodynamics is quite exciting. It certainly is a step forward in the quest for setting quicker lap times on a racetrack.