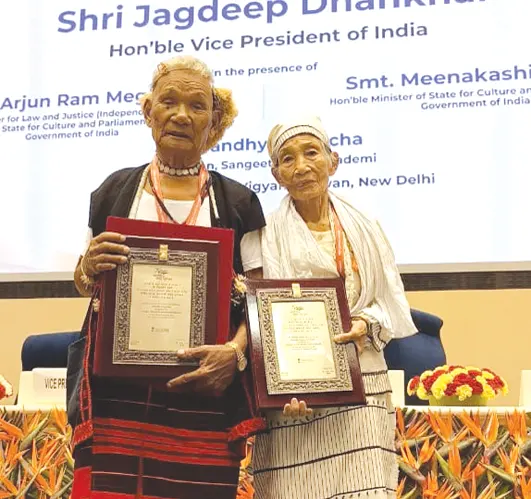 [ Litem Eshi Ori ]
PASIGHAT, 16 Sep: Two legendary artistes from Arunachal Pradesh – Mikkong Eko and Konpu Lee Kadu – were among the 84 artistes from varied fields of performing arts who received the Sangeet Natak Akademi Amrit Awards from Vice President Jagdeep Dhankhar in New Delhi on Saturday.
The awardees received Rs 1 lakh each, besides a 'tamrapatra' and an 'angavastram'.
These two artistes devoted their lives to promoting tribal folk art music and preservation of the rich culture and traditions of their region. They have passed down their heritage orally, inspiring the younger generations.
Dr Delong Padung, a general council member of the Sangeet Natak Akademi, guided and accompanied the artistes.
According to a PTI report from New Delhi, the one-time Sangeet Natak Akademi Amrit Award was constituted to honour Indian artistes aged above 75 years who have not been accorded any national honour in their career so far.
Speaking at the award ceremony, Dhankhar said that this is the first time in the nation's history that these artistes are being recognised for their work.
"All these artistes are those who have never been given their due in the last 75 years. By giving them respect, we give respect to the Indian culture; it increases India's glory in the world," he said.
The vice president added that it is important to help such artistes in a "structured manner" through several schemes launched by the government.
Eighty-four artistes, comprising 70 men and 14 women, received the award.
The list of awardees includes Krishen Langoo (theatre and music) from Jammu & Kashmir; John Claro Fernandes (playwriting) from Goa; Mahabir Nayak (folk music and dance) from Jharkhand; and Tsering Stanzin (folk music) from Ladakh.
Sangeet Natak Akademi Chairperson Sandhya Purecha said that the Akademi is awarding those artistes who have given a lifetime to preserve and protect Indian arts and culture.
"All of you represent the diverse cultural fields and arts of India. All of you are experts in your respective fields and have maintained the continuity of the Indian culture through your practices. You have made an important contribution to keeping the Indian heritage alive. This is a reward for that contribution," Purecha said.
The award ceremony was attended also by MoS for Law Arjun Ram Meghwal and MoS for Culture Meenakshi Lekhi.
The Sangeet Natak Akademi also organised a four-day festival from 16 to 20 September at the Akademi complex, featuring the recipients of the awards.