One speaks Russian, another Chinese; how they framed a common language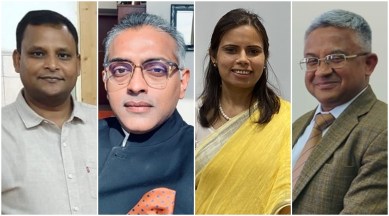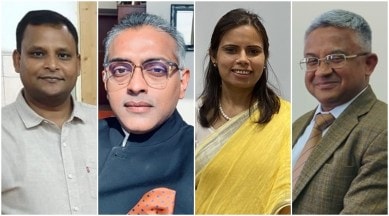 (L-R) Ashish Sinha, Nagaraj Naidu Kakanur, Eenam Gambhir, Abhay Thakur
Listen to this article
Your browser does not support the audio element.

It took four Indian diplomats from the Foreign Service, months of hard trot, back-and-forth with member countries, and a final dash across five sleepless all-nighters from September 3, to hit the finish line Saturday: a communique with complete consensus, the New Delhi G20 leaders' declaration.
Meet the four:
Abhay Thakur, Additional Secretary, is the Sous-sherpa, No. 2 to India's G20 Sherpa Amitabh Kant. He has been India's envoy to Mauritius and Nigeria, and has handled Nepal and Bhutan in the Ministry of External Affairs. Thakur has also been a director in the External Affairs Minister's office. A Russian speaker, he learnt the language as part of his training – this came in handy this time Nagaraj Naidu Kakanur, Joint Secretary, is the Chinese speaker in the team. A lead negotiator on the Ukraine conflict paragraphs, Naidu has formidable multilateral experience as Chef de Cabinet to the President of the 76th Session of the United Nations General Assembly. He was the Deputy Permanent Representative of India to the United Nations, and used to lead Yoga Day celebrations being an expert in Yoga.
An IFS of 1998 batch, Naidu is a fluent Chinese speaker and has served in four separate stints in Beijing, Hong Kong and Guangzhou. He has handled the MEA's Economic Diplomacy division and headed the Europe West Division where he was in charge of ties with major G7 countries including UK, France, Germany, Italy, Spain and the European Union. He has a Master's from Fletcher School of Law & Diplomacy.
You have exhausted your
monthly limit of free stories.
To continue reading,
simply register or sign in
Continue reading with an Indian Express Premium membership.
This premium article is free for now.
Register to read more free stories and access offers from partners.
Continue reading with an Indian Express Premium membership.
This content is exclusive for our subscribers.
Subscribe now to get unlimited access to The Indian Express exclusive and premium stories.
Eenam Gambhir, the only woman officer in the team, is currently Joint Secretary G20 and a 2005 batch IFS officer. She has served as a senior advisor on Peace and Security issues in the Office of the President of the 74th Session of the United Nations General Assembly at the UN HQ in New York.
Prime Minister Narendra Modi welcomes US President Joe Biden at the Bharat Mandapam on Saturday.
Gambhir has also served in embassies in Latin America including in Mexico and Argentina. A fluent Spanish speaker, she has dealt with issues relating to Pakistan, Afghanistan and Iran working in New Delhi from 2011 to 2016. She also served in the Permanent Mission of India to the UN. She holds two Master's degrees; one in maths from Delhi University and another in international security from the University of Geneva. She writes poetry in Spanish, English and Hindi.
Ashish Sinha, another 2005 batch IFS officer, is also fluent in Spanish and has served in Madrid, Kathmandu, New York and Nairobi. In New Delhi, he worked in the External Affairs Minister's office and as desk officer for Pakistan. Before becoming Joint Secretary in G20, he has been negotiating for India over the last seven years in multilateral settings.
Prime Minister Narendra Modi welcomes Italy Prime Minister Giorgia Meloni at the Bharat Mandapam on Saturday.
Naidu and Gambhir were tasked with tough negotiations for the Ukraine conflict paragraphs. While they travelled to different locations for the G20 Sherpa meetings, they adopted a strategy of "divide and conquer."
Aware that in a room full of diplomats, there isn't much space to speak your mind, they had several one-on-one sessions over coffee. "In these, all sides were much more reasonable," a negotiator said.
The challenge emerged just after Bali. "Barely a month after the last summit in November, the consensus (on Ukraine) broke down in December. So there was a need to come up with a new formulation," one of the negotiators said.
Prime Minister Narendra Modi welcomes Saudi Arabia's Crown Prince Mohammed bin Salman Al Saud at the Bharat Mandapam on Saturday.
The Indian team then thought of enlisting the support of Brazil and South Africa, since they were going to hold the next G20 summits. It helped that they were all from developing countries, and representing the Global South.
So, Indonesia, India, along with Brazil — they formed the Troika (the past, present and future presidencies) — joined hands with South Africa and this lent credibility to their arguments.
After a few months and five sleepless nights and negotiations, they finally arrived at the consensus on Friday night, between the G7 and the Russia-China bloc. What helped seal the deal was the phone call between Prime Minister Modi and Russian President Vladimir Putin last week and the bilateral with US President Joe Biden Friday.
Once they informed the Prime Minister and the NSA, along with External Affairs Minister S Jaishankar — who was being constantly briefed — they got the green signal.
After the consensus, a decision was taken to promptly make the declaration public — there was no need to wait for the second day and conclusion of the summit.
At the international media centre. (Express photo by Tashi Tobgyal)
Acknowledging their role, Kant, who led the team, thanked Jaishankar for giving him these four "really outstanding" and "brilliant officers."
"It was just brilliant teamwork by India which enabled us to achieve consensus on an issue on which a consensus has evaded the world," Kant said.
© The Indian Express (P) Ltd
First published on: 10-09-2023 at 04:00 IST