Other England players, including Reece Topley, are also weighing up the merits of the move
Matt Roller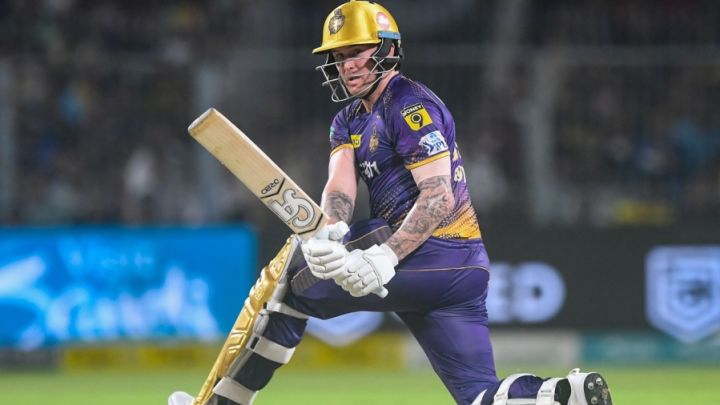 England white-ball players are considering negotiating releases from their ECB contracts in order to take up lucrative offers to play in the inaugural season of Major League Cricket (MLC) in the United States.
English players on full central contracts are unlikely to feature in MLC this year but ESPNcricinfo understands that Jason Roy – who holds an incremental deal with the ECB – plans to terminate his contract in order to play in the league.
Reece Topley, Roy's Surrey and England team-mate, is weighing up the merits of the same move, though his decision may depend on his fitness status after shoulder surgery last month.
MLC is due to take place from July 13-30 at Grand Prairie Stadium in Texas and has significant backing from both India and Australia: four of the six franchises have investors who own IPL teams, while Cricket Victoria and Cricket New South Wales have stakes in the other two.
The league's inaugural season features a minor clash with the English summer: the semi-finals and finals of the T20 Blast take place on July 15, while there are two rounds of County Championship fixtures between Finals Day and the start of the Hundred on August 1. But there are concerns within the English game that MLC is likely to expand in future and could clash directly with the Hundred.
As a result, the ECB will not give No-Objection Certificates (NOCs) that would enable contracted players to feature in MLC. And while players are unlikely to negotiate a release from full white-ball contracts to play in the US, such a move would make financial sense for those on incremental deals.
The ECB incremental contracts are worth around £66,000 per year and effectively act as a top-up to county salaries. Six players have such deals for the 2022-23 contract cycle: Harry Brook, Dawid Malan, Matthew Potts, Roy, Topley and David Willey.
ESPNcricinfo understands that Surrey are expecting Roy to play MLC – most likely for LA Knight Riders – between the end of their Blast season and the start of the Hundred, and that he would have to agree a release from his incremental contract to do so. If Surrey reach Finals Day, Roy will be available for them and miss the start of MLC.
The player draft for inaugural MLC was held at NASA Space Center Houston in March  Peter Della Penna
Roy played for Kolkata Knight Riders in IPL 2023 and is understood to have held informal discussions with the franchise about the possibility of a contract to play for their teams in other leagues, including MLC. His representative declined to comment.
Topley has not signed a deal to play in MLC but is also understood to be considering his options. After leaving the IPL early with a shoulder injury, he underwent surgery last month and his contractual decisions will depend in part on the progress of his rehabilitation.
Topley outlined his white-ball ambitions on Surrey's live stream last week: "If you'd have asked me when I was young, I'd have said I'd love to play 100 Tests for England," he said. "Now, if you asked me, [I'd say] I'd love to go to as many IPLs as I can. I don't think the stigma around saying you want to play and be successful in white-ball cricket is that bad."
England contracts run from October to September, so requesting a release from an incremental deal at this stage of the year would cost players around £20,000. Each MLC franchise has a purse of $1.15 million (£930,000 approx.) – to cover between 16 and 19 players, of which nine can be from overseas – so any deals would offset the loss of earnings from leaving an England contract.
The ECB is in the process of revamping its central contract system for the 2023-24 season to adapt to the growth of franchise leagues, and any decisions to leave incremental contracts will not be held against players in selection moving forward.
A Professional Cricketers' Association (PCA) spokesperson told ESPNcricinfo: "This is covered by the comprehensive standard playing contract agreed by the ECB, counties and the PCA. It is completely at the employers' discretion whether players are issued an NOC in-season."
Several leading T20 players including Marcus Stoinis, Quinton de Kock, Wanindu Hasaranga, Anrich Nortje and Glenn Phillips have already been unveiled as overseas signings in MLC, with Trent Boult and Adam Zampa expected to join them in the coming weeks.
Matt Roller is an assistant editor at ESPNcricinfo. @mroller98