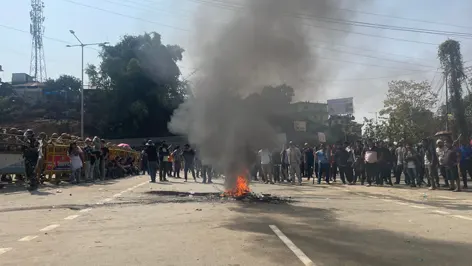 ITANAGAR, 17 Feb: The Itanagar Capital Region (ICR) was completely shut down on Friday due to the 12-hour bandh enforced by the public.
The public had on Thursday announced to enforce the bandh, deploring "the lackadaisical attitude of the state government" towards the 13-point charter of demands placed by the Pan Arunachal Joint Steering Committee (PAJSC) with regard to the Arunachal Pradesh Public Service Commission's (APPSC) cash-for-job scam.
They had demanded also that the swearing-in of the new APPSC chairman and members be called off.
On Thursday morning, the state cabinet met virtually and decided to call off the swearing-in ceremony of the chairman and members of the commission. The cabinet decided also that the matter will be discussed with all community-based organisations and stakeholders of Arunachal.
There were reports of skirmishes between the protestors and security personnel from several parts of the ICR.
However, a major violence broke out on the highway that leads to the Raj Bhavan, where the protestors and security personnel clashed, and several people, including protestors and security personnel, were injured. One person has been referred outside the state for further treatment. The protestors alleged that the police charged them aggressively.
Meanwhile, the bandh enforcers have declared that the shutdown will now be enforced across the state till 21 February. They said that they will not withdraw the bandh until the state government fulfils the PAJSC's 13-point charter of demands.
Chief Minister Pema Khandu on Friday invited the protestors to his office for a dialogue. ICR DC (i/c) Sachin Rana handed over the invitation letter to the protestors, but they refused to sit in any meeting.
Earlier, the police had detained some of the protestors.
Internet suspended
Meanwhile, the home department has ordered suspension of internet services in the ICR from 17 February evening to 19 February evening.
Home Principal Commissioner Kaling Tayeng issuing the order, stating that the suspension of internet services in the ICR is to prevent occurrence of serious law and order problems during the bandh enforced by the PAJSC.