Samsung's Galaxy Book laptops have always been some of my favorite laptops, but they've also definitely been flawed. Last year's Galaxy Book 2 series came with AMOLED screens standard, but they only had a 16:9 aspect ratio and FHD, even on the 15.6-inch models.
The Samsung Galaxy Book 3 Pro, thankfully, fixes a lot of those flaws. The screen is now 16:10 with a 120Hz refresh rate, and yes, it's still AMOLED. It also still works great with your other Samsung devices. It integrates seamlessly with Microsoft Phone Link, and the rest of your Samsung apps are here too, like Samsung Notes. Here's one tiny example. I didn't have to pair my Samsung Galaxy Buds 2 Pro. They showed up in the Samsung Settings app, and I just hit connect.
However, while it fixed some flaws, it came up with a couple of its own. For one, it's still 3.4 pounds, which is pretty light for a 16-inch laptop. That's thanks to the more premium aluminum build. It's a shame that it's heavier if you, like me, were a huge fan of that aspect of the design. Still, this is a great laptop.
About this review: Samsung sent us the Galaxy Book 3 Pro for review and had no input on this article's content.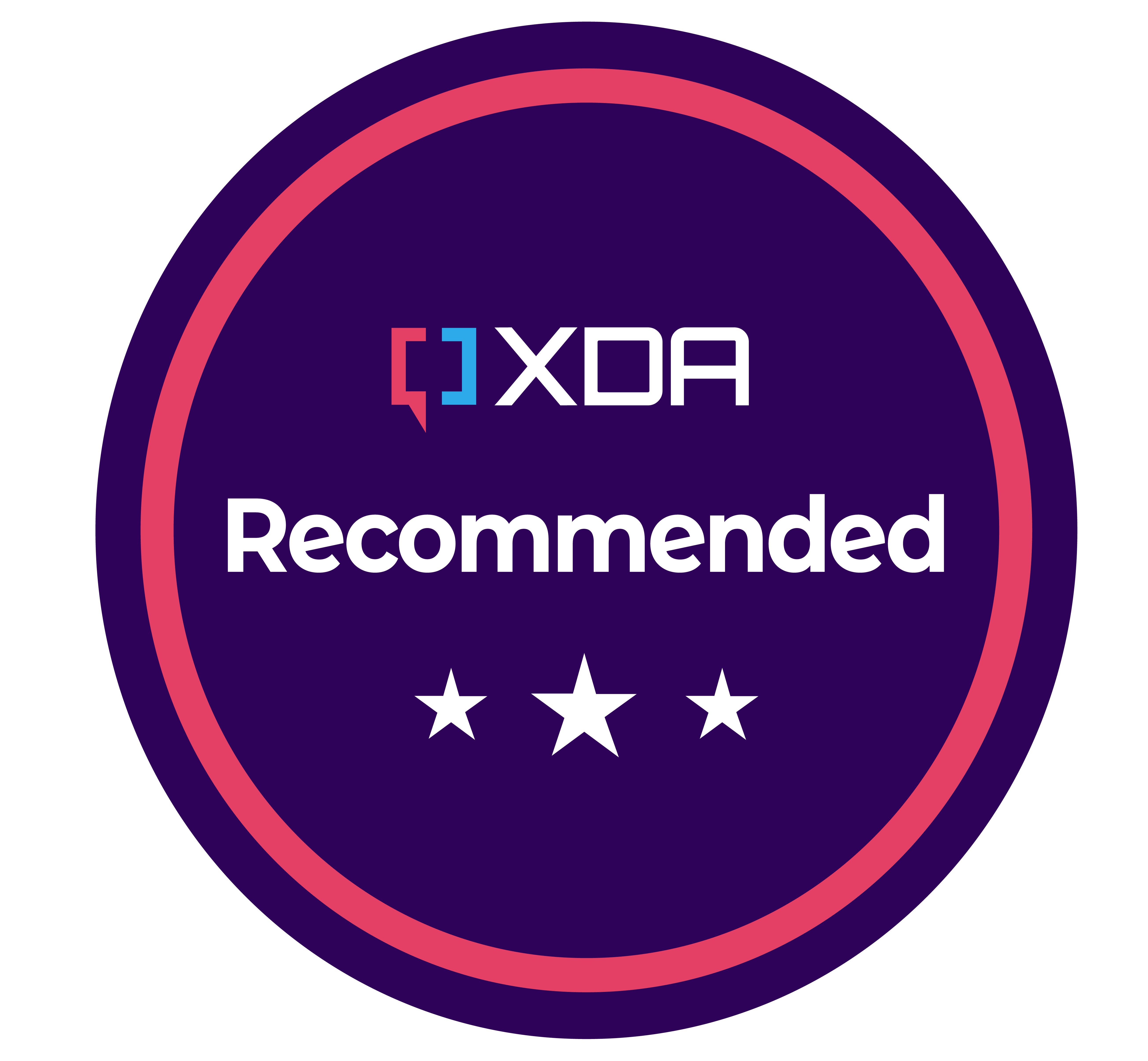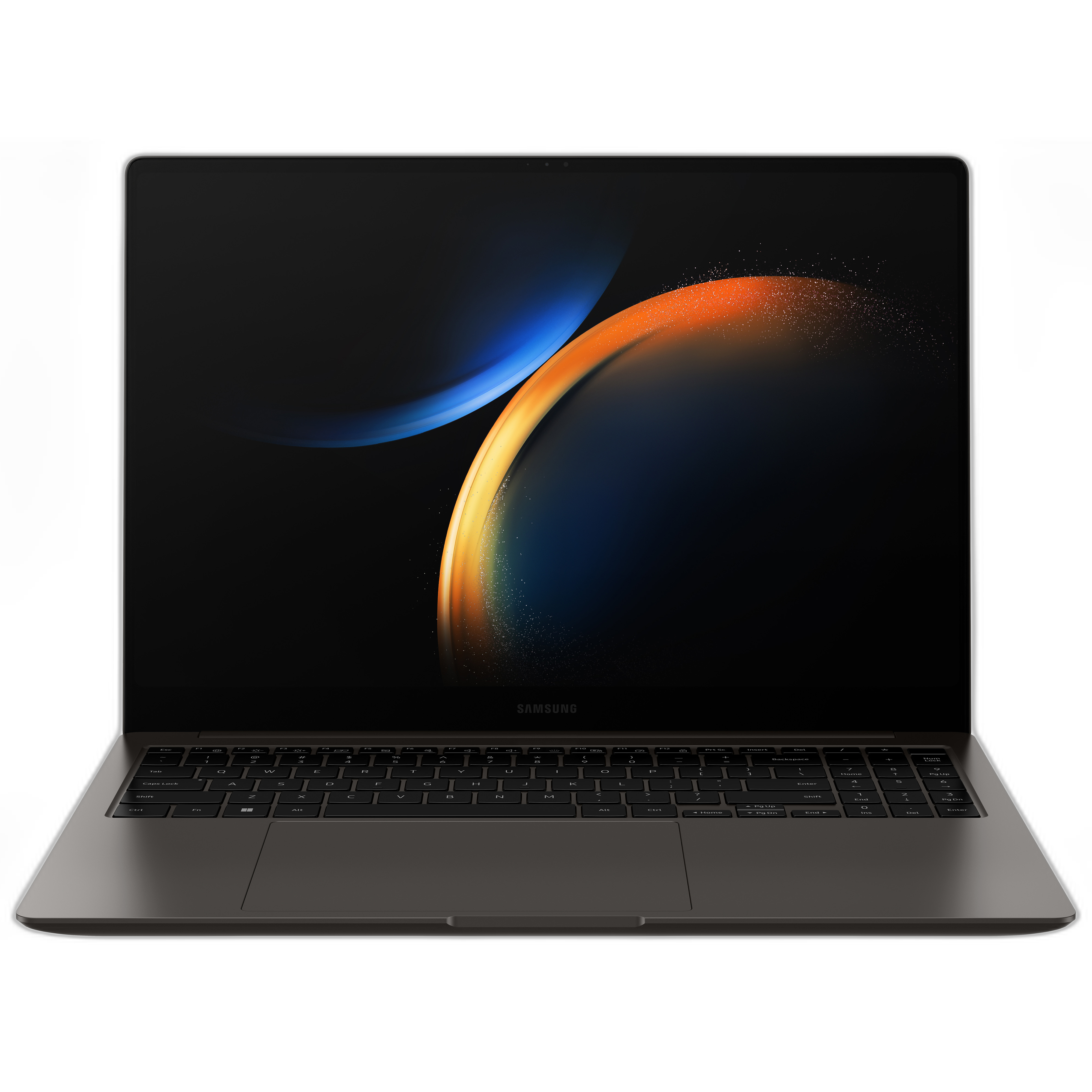 Samsung Galaxy Book 3 Pro
Recommended
The Samsung Galaxy Book 3 Pro is a premium aluminum laptop with 13th-generation Intel Core processors and options for a 14-inch or 16-inch screen.
Brand

Samsung

Color

Graphite

Storage

512GB SSD

CPU

Core i7-1360P

Memory

16GB

Operating System

Windows 11 Pro

Battery

76WHr

Ports

Two Thunderbolt 4, One USB 3.2 Type-A, HDMI 2.0, microSD, 3.5mm audio

Camera

1080p FHD / Studio-quality Dual Mic

Display (Size, Resolution)

16.0-inch Dynamic AMOLED 2X (16:10 ratio), 400nits, 120Hz, 120% Color volume (DCI-P3), 3K (2880×1800)

Weight

1.56kg (3.4lbs)

GPU

Intel Iris Xe

Dimension

355.4 x 250.4 x 12.5mm

Network

Wi-Fi 6E (Gig+), 802.11 ax 2×2, Bluetooth v5.1

Speakers

AKG Quad Speaker (Woofer Max 5W x 2, Tweeter 2W x 2), Smart Amp, Dolby Atmos

Price

$1,749
Pros
New 120Hz AMOLED display is beautiful
Works seamlessly with other Samsung devices
It's a great overall laptop
Much improved build quality over last year
Cons
It's much heavier than last year
Touchpad placement takes some getting used to
Design isn't exciting
Samsung Galaxy Book 3 Pro: Price and availability
The Samsung Galaxy Book 3 Pro launches on Feb. 17
It starts at $1,449 for the 14-inch model and $1,549 for the 16-inch one
The Samsung Galaxy Book 3 Pro was announced at Unpacked on Feb. 1, and while preorders have been live ever since, it will begin shipping on Feb. 17. It starts at $1,449 for the 14-inch model and the 16-inch one, which is the one I'm reviewing, is $100 more.
While it's pricier than its predecessor, like everything in today's market, the base model is pretty beefy. It comes with an Intel Core i7-1360, a 512GB SSD, and 16GB RAM.
Design: It's made of aluminum now… and it's a lot heavier
The Samsung Galaxy Book 3 Pro is completely redesigned
It's made out of aluminum, a heavier material
There are two Thunderbolt 4 ports, one USB Type-A port, HDMI, microSD, and a headphone jack
The Samsung Galaxy Book 3 Pro is totally redesigned, and like all redesigns, that brings with it some good and some bad. It's made out of aluminum now, rather than the magnesium you'd find in the Galaxy Book 2 Pro. It definitely feels more premium; gone are the days when you could easily flex the screen and the chassis just by grabbing it.
But aluminum is also a much heavier material, and it's one of the heaviest that you'll find in a laptop. That means the Galaxy Book 3 Pro is a lot heavier. The 14-inch version weighs 2.58 pounds, while the 13-inch Galaxy Book 2 Pro weighed just 1.92 pounds. That's a big difference. Naturally, 2.58 pounds is still a lightweight laptop, and it's a bit lighter than a MacBook Air. It's just not crazy light like its predecessor was.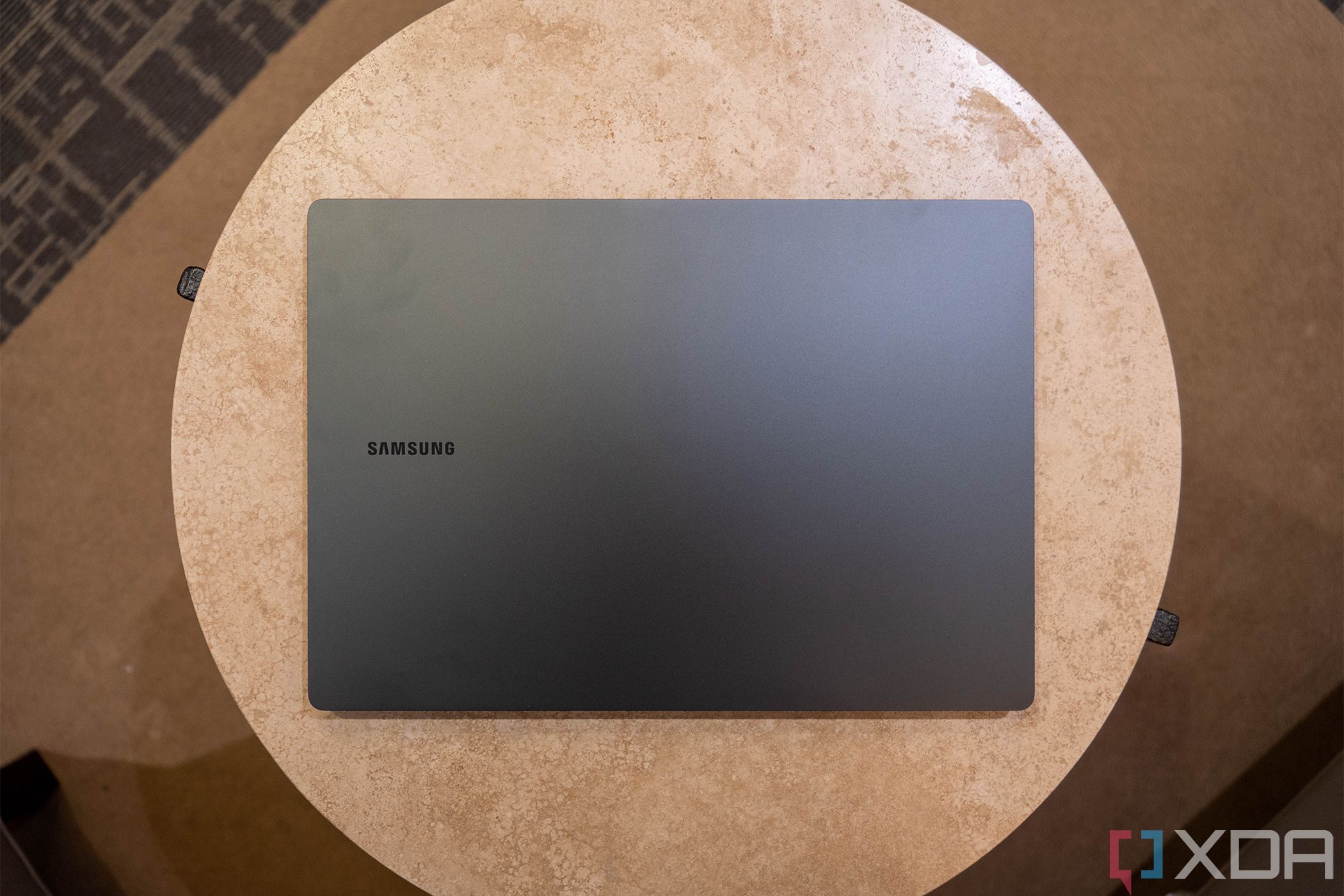 For the 16-inch model, the story is a little different. It's a comparatively light laptop at 3.4 pounds. And indeed, there are two kinds of 16-inch laptops: those made for people that need dedicated graphics, and those for people who have the same needs as someone who buys a 14-inch laptop but just wants a bigger screen. This laptop is the latter, so you don't get the added bulk and weight of that extra power.
For comparison, the 15-inch Surface Laptop 5 weighs 3.44 pounds and LG's new Gram Style 16 only weighs about 2.71 pounds. Dell's XPS 15, on the other hand, starts at a whopping 4.22 pounds, but that includes a 45W CPU and RTX graphics.
But enough about the weight and build. Let's talk about the color, which is called Graphite. It's the standard gunmetal gray color we've seen in plenty of laptops. It's fine, just not that exciting. I wish that companies like Samsung would put the same effort into making their PCs look as sleek as their phones do. There's also a Beige color, which I haven't seen in person.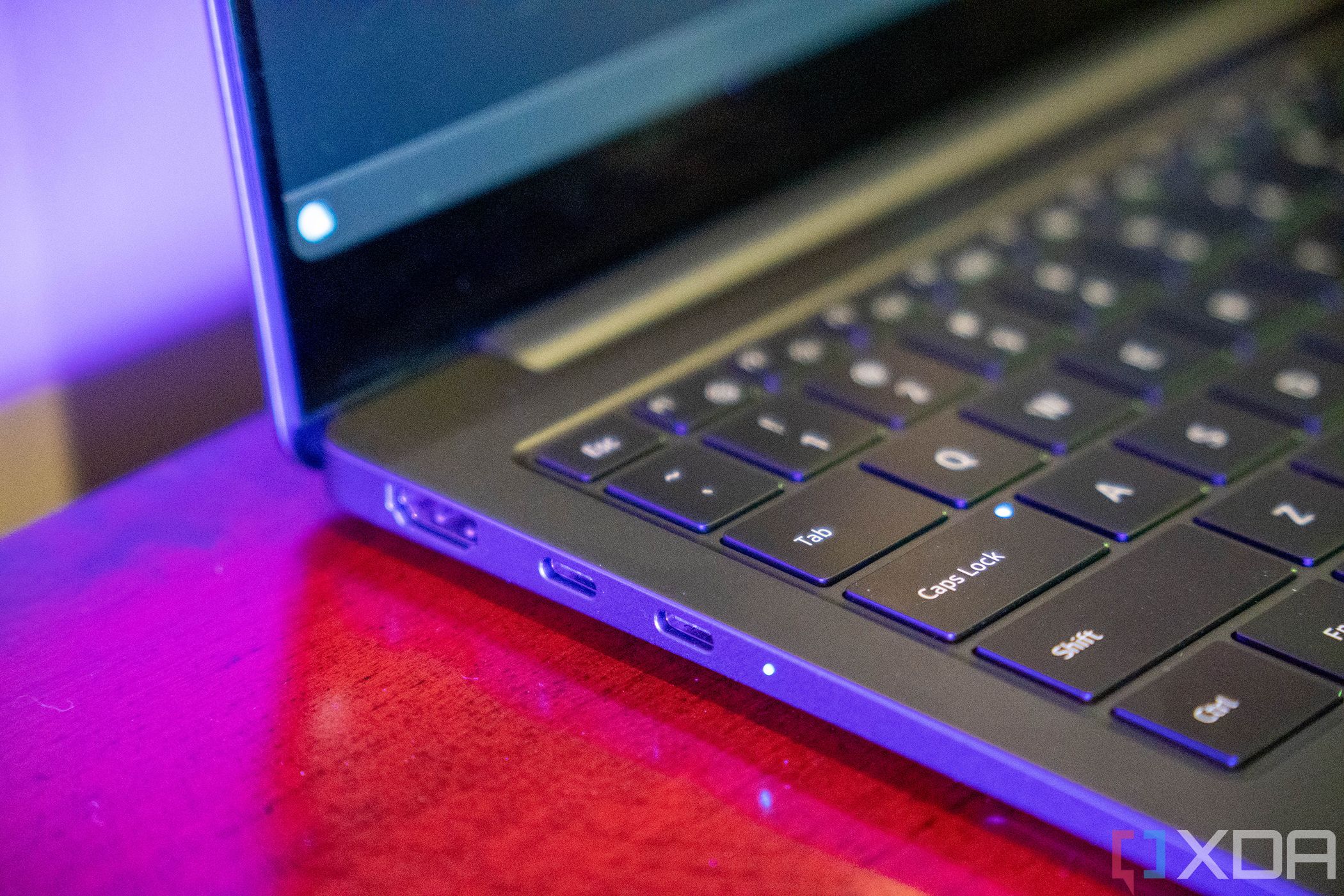 One big change in the Galaxy Book series is the reintroduction of ports. The entire Pro lineup has dual Thunderbolt 4 ports, as opposed to last year's models, which only had one and filled the rest with USB 3.2. You'll find those on the left side, along with a new HDMI 2.0 port. On the right, there's USB 3.2 Type-A, something that wasn't on last year's, a microSD card slot, and a 3.5mm audio jack.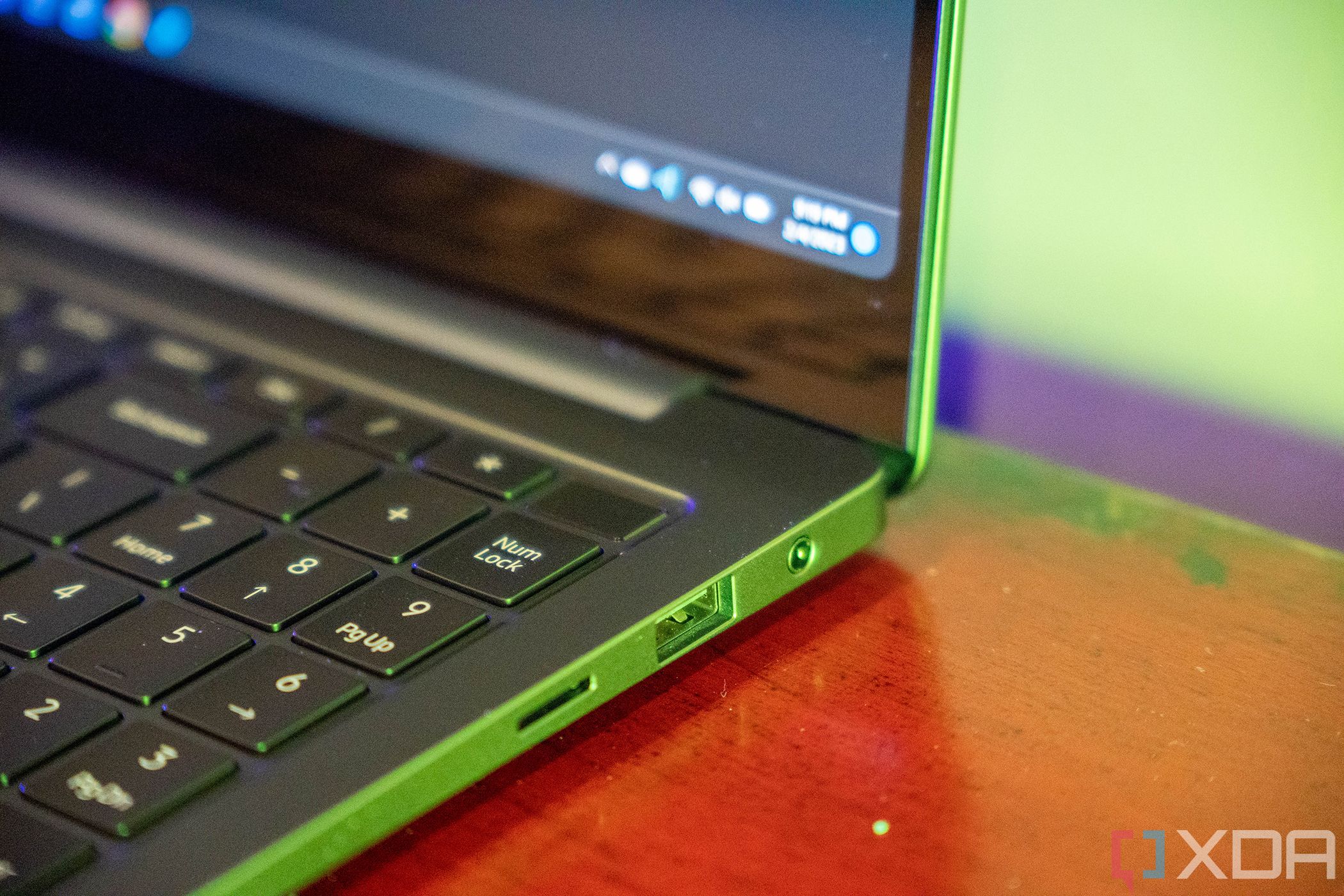 I do like how the Galaxy Book 3 Pro stands on its own in terms of design. But when I compare it to the previous generations, I feel like it's a real shame. I really loved that aspect of the Galaxy Book lineup where you could get a laptop that weighs under two pounds.
Display: Samsung finally says no to 16:9
The new screen is 16:10 with a 120Hz refresh rate
The webcam is 1080p, but there's still no IR camera
16:10 screens have gotten really popular in laptops over the last few years, which is one reason that the Galaxy Book 2 Pro's 16:9 display felt a little awkward to use. Samsung fixed that with the Galaxy Book 3 Pro. Not only that, but it increased screen sizes from 13.3 and 15.6 inches to 14 and 16 inches, respectively. It's a natural transition as 15.6-inch laptops start to phase out of the market.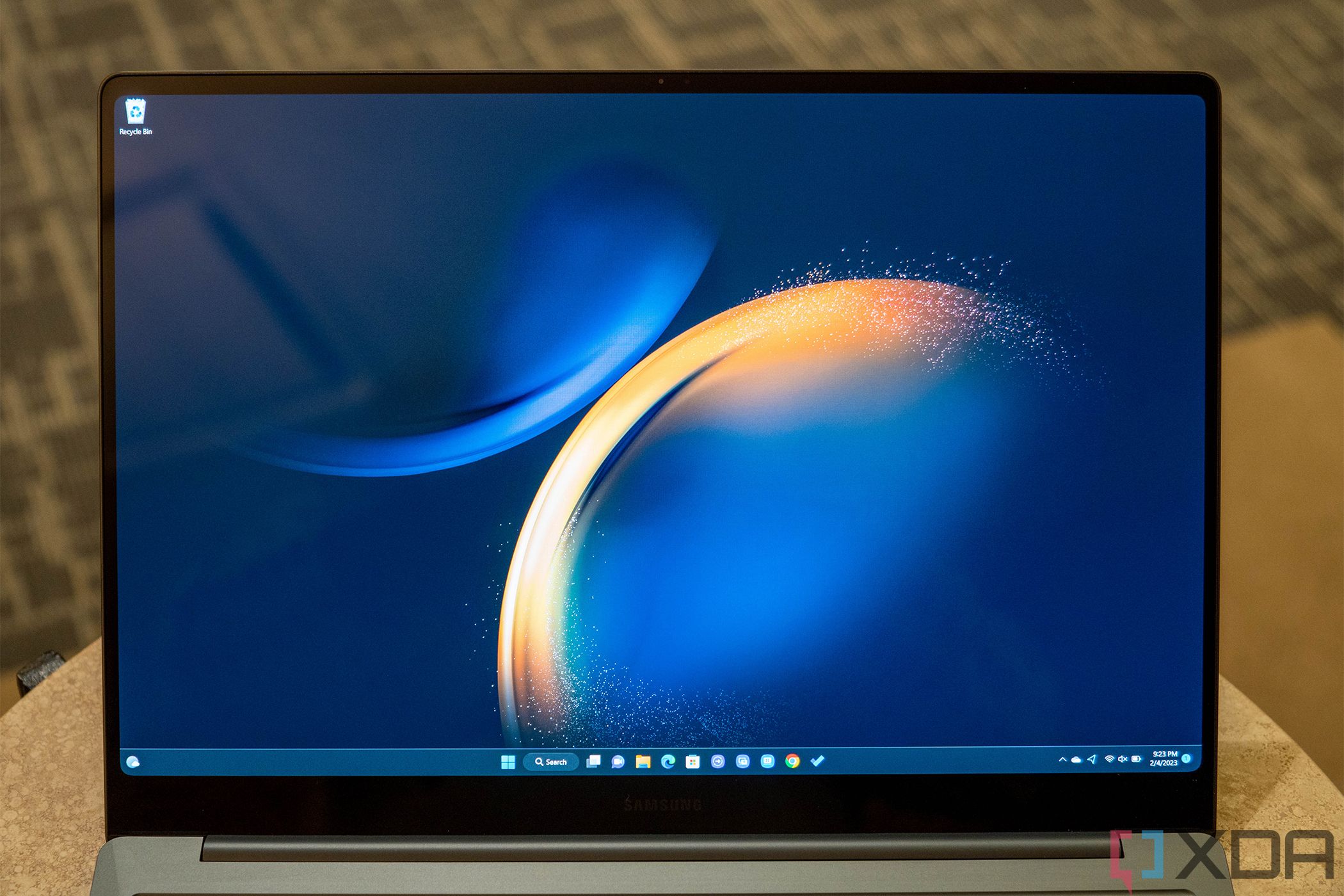 In other words, the screen is much bigger. Even if it was still 15.6 inches, it would still be about 11% taller because screens are measured diagonally and the new aspect ratio would add surface area. But at 16 inches, it's still larger than that.
The resolution has also been changed to 2880 x 1800, which is a massive improvement. In previous generations, the only option was a 1920 x 1080 AMOLED panel. This was actually unique to Samsung's laptops, and they wouldn't use as much battery as competing devices with UHD OLED screens. You could really see the pixels, especially on the 15-inch variants.
The AMOLED display is the best you can get.
Now, you won't have to see those ugly pixels anymore. The new panel is still AMOLED, but it now comes with a 120Hz refresh rate. That's right, OLED brings vibrant colors, the pixels make it sharp, and the refresh rate makes it smooth. It's awesome, and I can prove it.
Note that by default, the screen is set to a dynamic refresh rate, which switches between 60Hz and 120Hz. You can force it to one or the other if you'd like, but the point of the dynamic refresh rate is that it'll lower when you're not moving things around, therefore using up less battery. Of course, what I'd really like to see is a dynamic refresh rate like the one in the Galaxy S23 Ultra, which goes between 1Hz and 120Hz, but Windows just isn't there yet.

Color gamut is as good as it gets. It supports 100% srGB, 100% P3, 96% NTSC, and 98% Adobe RGB. You really need OLED to get in the 90s in all four, and even for that, this is excellent.

Brightness maxed out at 428.6 nits, exceeding the promised 400. The contrast ratio is sky high, as expected for an AMOLED display, coming in at 14,330:1.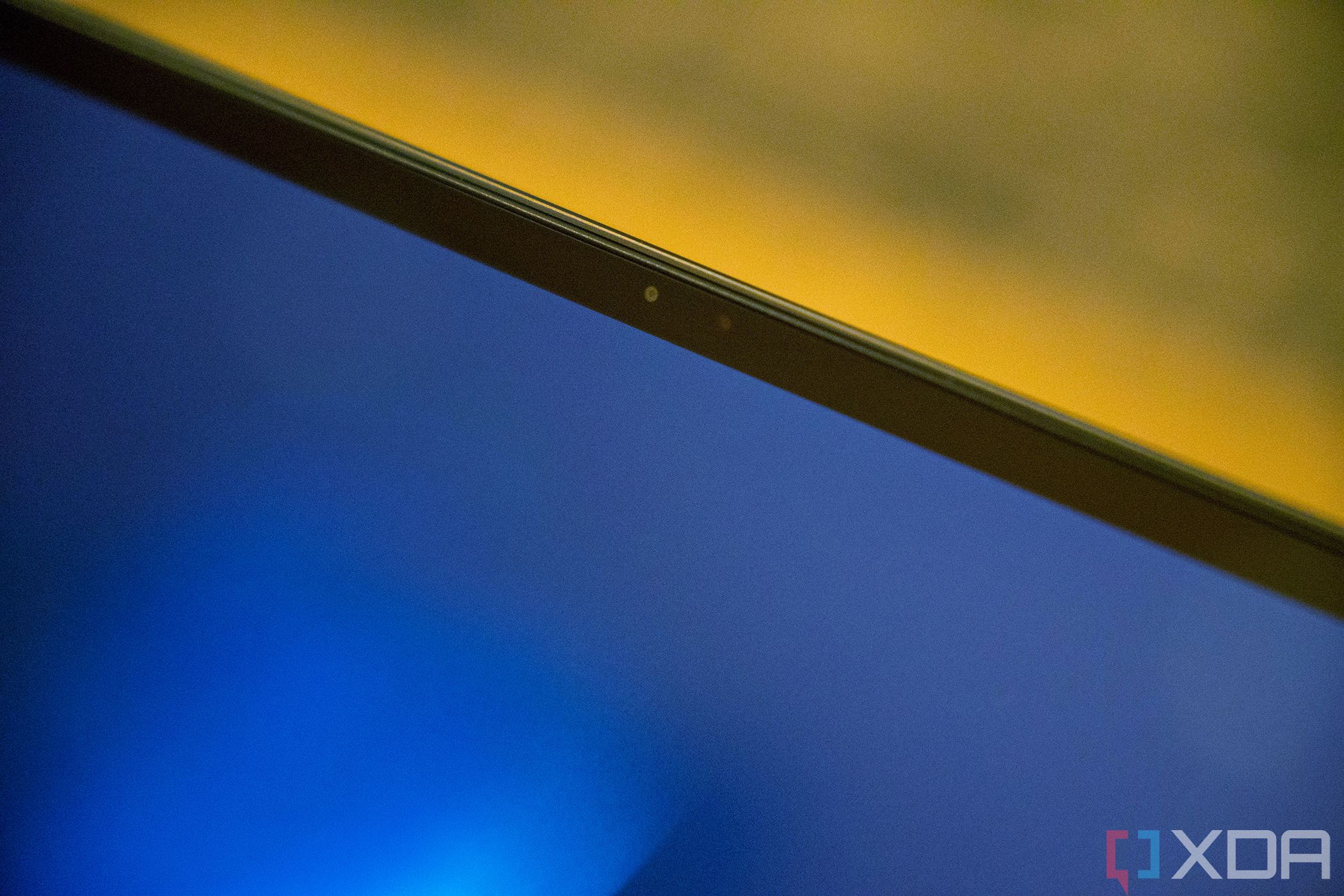 In contrast, the webcam quality is just fine. Samsung took a big step forward last year by increasing the resolution to FHD, which more than doubles the pixel count, but the quality hasn't improved since then. It's still a pretty small sensor, so while it's decent, it'll still struggle in poor lighting.
Samsung still hasn't embraced facial recognition, either, as there's no IR camera for Windows Hello. I'm fine with that; I've given up on even setting up facial recognition on new PCs. It ends up just being more of a hassle than it's worth, and I end up just dismissing it in favor of typing my PIN.
The screen is still a big improvement though. Still, I wish Samsung gave users options. FHD wasn't necessarily a bad thing on the Galaxy Book 2 Pro, but I think we reviewers just wanted another option.
Keyboard: You could park a car on this touchpad
The keyboard is fine
But the touchpad is the biggest I've seen
As we've seen on a lot of the Samsung Galaxy Book series laptops, the keyboard is shallow. It may take some getting used to, but I found it to be comfortable and accurate. If I had to guess though, the depth is about 1mm, rather than the 1.6mm you'd find in something like a Lenovo ThinkPad X1 Carbon.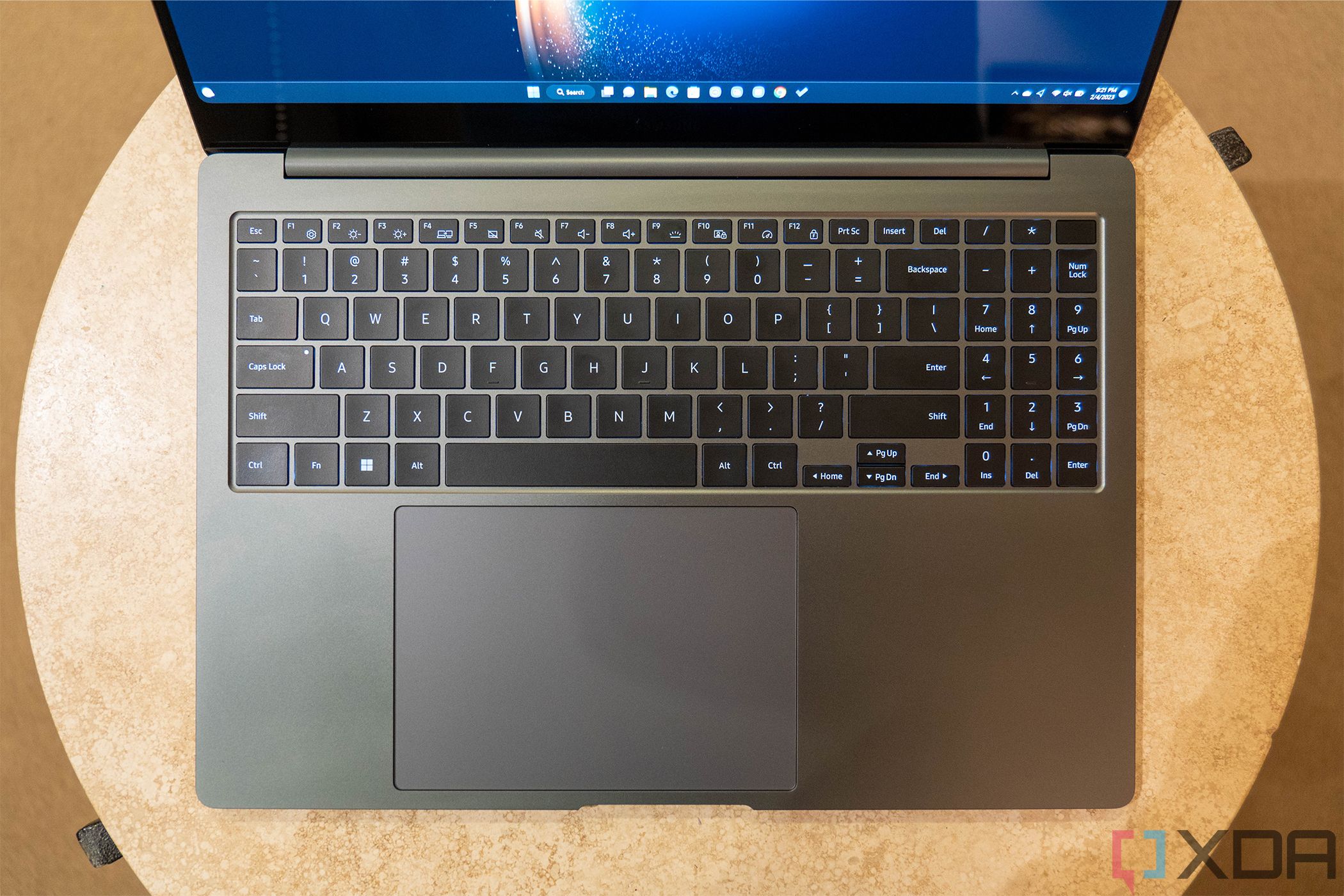 The keyboard is backlit, of course, and the larger 16-inch model of the Galaxy Book 3 Pro has a number pad to the right. I assume that the number pad is something that people like since so many companies do it on larger laptops. It's not for me though. Once again, it would be nice if Samsung offered more options.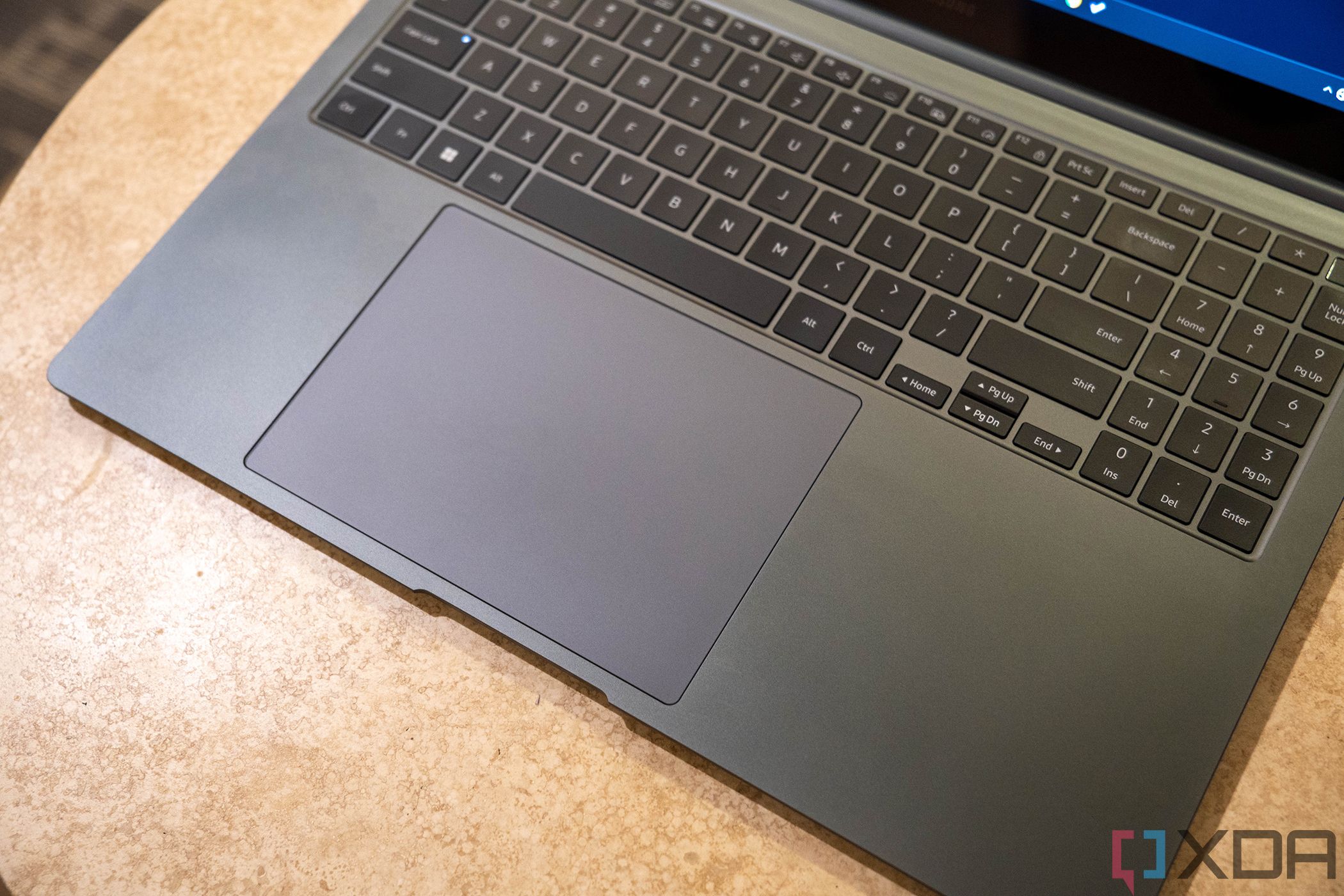 Now, let's talk about how giant this touchpad is. You could park a truck on this thing. First of all, I love large touchpads. As far as I'm concerned, the larger, the better. I want companies to make use of all the real estate.
Let's talk about how giant this touchpad is. You could park a truck on this thing.
The only problem is that it's so off-center because of the number pad. The divider between the left and right click seems to be right down the middle. To left-click, you have to land south of the B key, which feels too far to the left of the center of the laptop. It's a combination of the touchpad being off-centered and being so big; you'll feel like you're reaching too far to left-click (assuming you're right-handed, Otherwise, you'll feel like you're reaching to right-click). I got used to it, but it feels like a solvable problem.
Performance: Intel 13th-gen is finally here
The Samsung Galaxy Book 3 Pro comes with an Intel Core i7-1360P, a 28W CPU
The battery is 76WHr
The Samsung Galaxy Book 3 Pro units sold on Samsung.com in the U.S. include a Core i7-1360P and a minimum 512GB SSD. My unit actually has a Core i5-1340P and a 256GB SSD, so we'll be foregoing benchmarks.
This is my first laptop with Intel's 13th-generation processors (and one of the first we've tested at XDA). As far as feel goes, I think the 13th-generation P-series Core i5 feels like a 12th-generation P-series Core i7, which is a fine, modest boost.
I used this laptop mostly for productivity work in the browser. Obviously, I write articles for a living, and in my newer role at XDA, I use a lot more browser-based services for all kinds of tasks. I also used it for editing in Adobe Lightroom Classic and Photoshop, and it ran just fine. If you're looking to edit video, look toward the Samsung Galaxy Book 3 Ultra, which will have a 45W CPU and RTX graphics.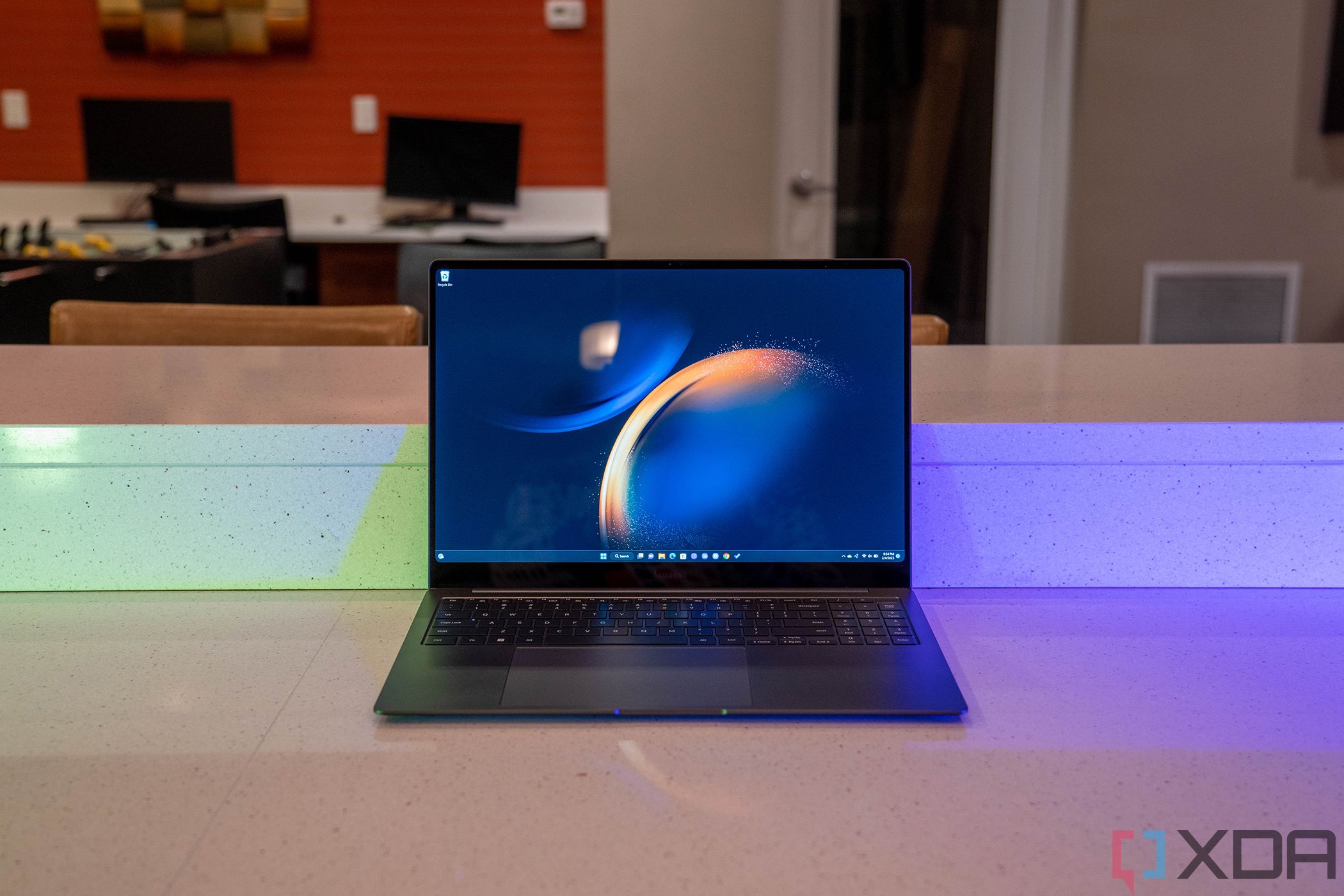 I was impressed most of the time with the battery life. I used the product like I normally would, with the power slider was on best performance and the display at around 50%. Battery life was between 200 minutes (three hours and 20 minutes), and 555 minutes (nine hours and 15 minutes). Two other times, I could get over seven hours, and three other times, I got over six hours. There was one other instance where I couldn't get to 300 minutes. On average, I got 377 minutes, or six hours and 17 minutes, which is great.
I was impressed most of the time with the battery life.
Unfortunately, standby battery life wasn't as impressive. In one case, it dropped by 49% in 608 minutes, and in another instance, it dropped by 49% in 558 minutes. It's a real pain to take a laptop on the go and it doesn't have the battery life you need. I found myself powering down the laptop when it wasn't in use, something I shouldn't have to do.
This is an Intel thing though. The chip maker simply hasn't solved power management yet.
Features: The Galaxy Book 3 Pro is the laptop for Samsung users
Samsung is working hard to make sure that its laptops work seamlessly with your phone
It works with Samsung Notes, Phone Link, Quick Share, and other apps
Samsung has told me in the past that it wants its laptops to be the perfect devices for Galaxy smartphone users. That's not an uncommon desire since everybody wants what Apple has — an ecosystem that allows the OEM to forge a better experience by owning the whole stack, which also makes it harder for people to leave.
The Korean firm is in a position to do it, being the top-selling smartphone maker in the world. As such, you'll find quite a few Samsung apps on this laptop, such as Samsung Notes, Samsung Pass, Samsung Studio Plus, Samsung TV Plus, Screen Recorder, Samsung Flow, Second Screen, Samsung Gallery, Samsung Settings, and more.
That's a lot of apps, but you'll get a lot as a result. For one, things just work. In the Samsung Settings, app, my Galaxy Buds 2 Pro were just there. I hit connect, and they were paired, no extra work required. There's also a Galaxy Buds app that gets pulled down from the Microsoft Store that's supposed to update firmware, but the app wasn't stable enough to do it.
If you have a Samsung phone, the Galaxy Book 3 Pro is for you.
Samsung Notes is a key feature if you're a Galaxy S Ultra user. After all, it's not a really widely used notetaking application, so if you've invested in it, you'll probably want a PC that has it.
Samsung Studio Plus is a neat video editor. While it's no Premiere Pro, it's a cool app, especially since Microsoft killed off its own video editing ambitions with Windows Movie Maker years back and is pushing Clipchamp now, which isn't great for a regular user who wants to trim some family videos. It can also pull video clips from the Samsung Gallery app, which uses OneDrive as a backbone to sync photos and videos between your PC and your Galaxy smartphone.
Second Screen is a feature that Samsung has been pushing since last year. It's pretty straightforward: If you've got a Samsung tablet, you can use it as a wireless second monitor.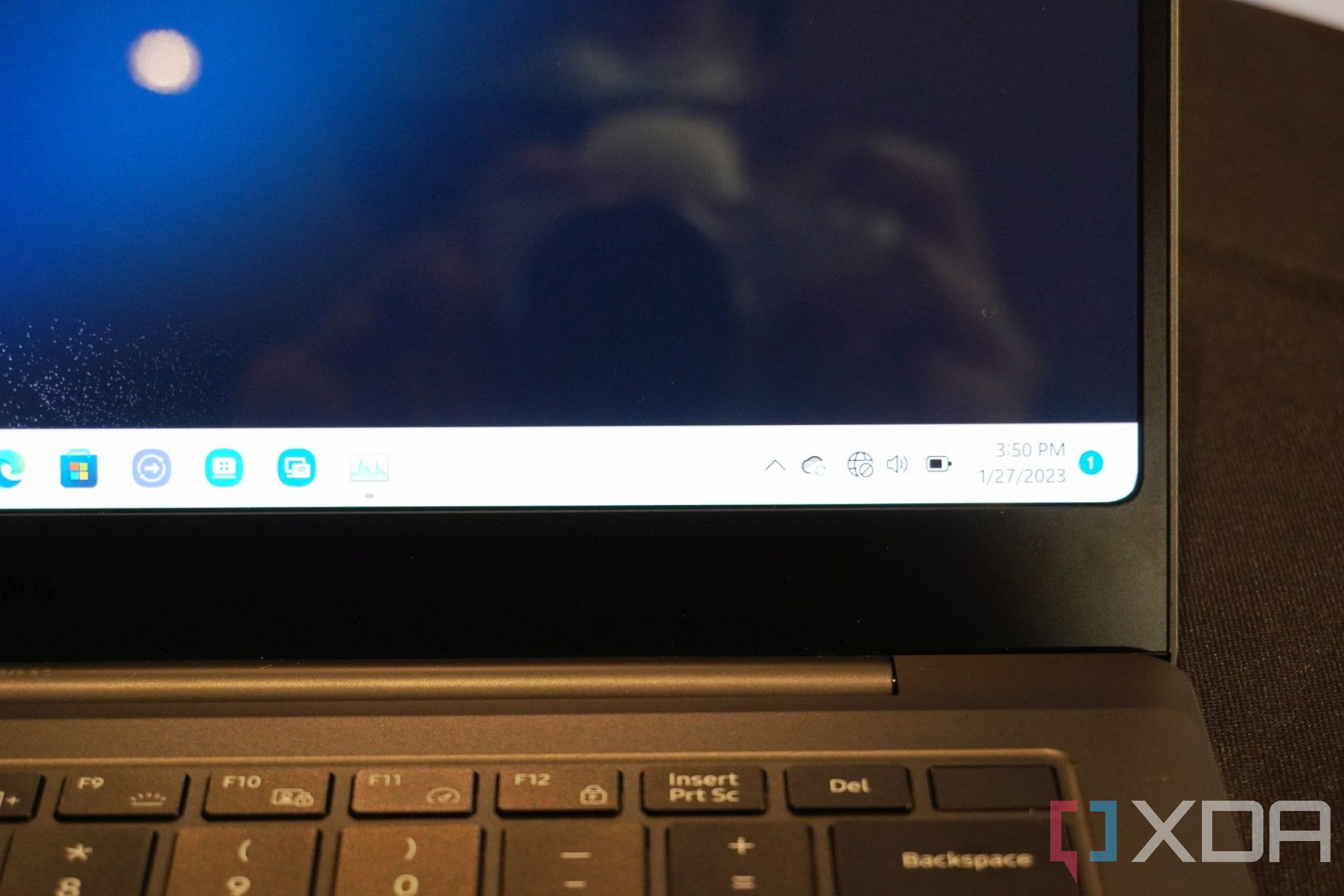 And let's not forget about all the perks you get from Microsoft's Phone Link. Obviously, you can use it for calls and messaging from your PC, but you can also use it to access photos and mirror your screen. What's really cool is that you can use it to copy and paste stuff from your Galaxy phone and vice versa.
One more thing I want to talk about is Quick Share, which lets you easily send photos, videos, or other files between devices. So, if you record a 4K 60 FPS video on your Galaxy S23 Ultra and you need to access it on your PC, you can send it wirelessly and quickly.
Should you buy the Samsung Galaxy Book 3 Pro?
You should buy the 16-inch Samsung Galaxy Book 3 Pro if:​​​​​​
You have a Samsung phone
You want a portable big-screened laptop
You're not doing tasks that require dedicated graphics like video editing
You just want a really great laptop, regardless of the kind of phone you have
You should NOT buy the 16-inch Samsung Galaxy Book 3 Pro if:
You need the lightest possible 16-inch laptop
You do require dedicated graphics
Samsung's Galaxy Book lineup has historically been known for being extraordinarily thin and light. Now, it's just regular thin and light. But one thing it hasn't been known for is power. If that's what you need, for things like video editing and gaming, check out the new Samsung Galaxy Book 3 Ultra.
However, the Samsung Galaxy Book 3 Pro is absolutely perfect for Galaxy smartphone users thanks to all the integrated apps. And it's just a great laptop overall. It's got a beautiful 120Hz AMOLED display, a great keyboard, and more. If you want a big, beautiful screen and a laptop that can get most tasks done, this is the laptop to get.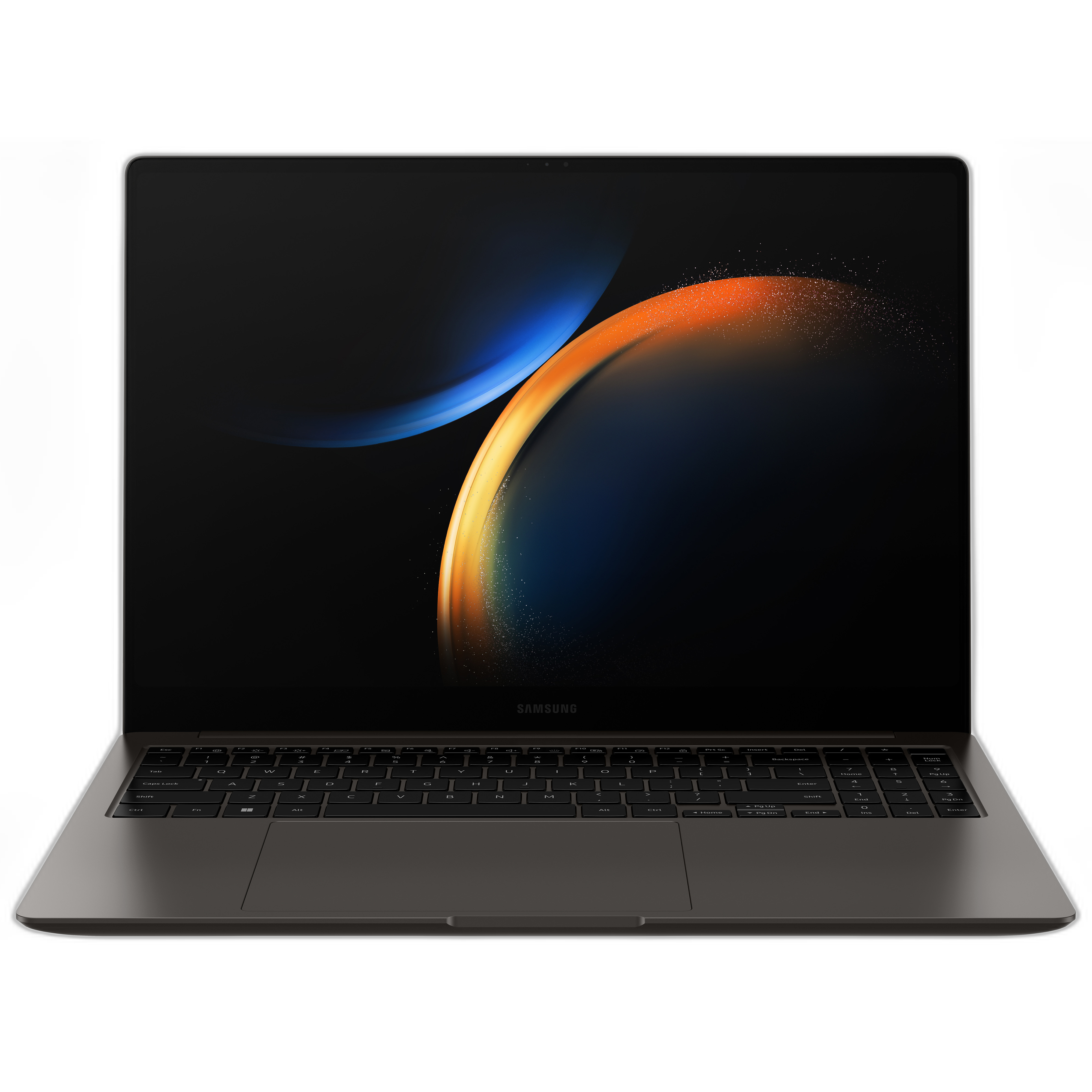 Samsung Galaxy Book 3 Pro
The Samsung Galaxy Book 3 Pro is a premium aluminum laptop with 13th-generation Intel Core processors and options for a 14-inch or 16-inch screen.