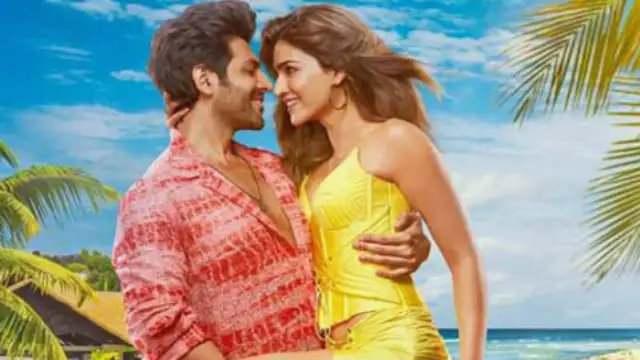 EXCLUSIVE: Kartik Aaryan and Kriti Sanon discuss their upcoming films – Adipurush and Satyaprem Ki Katha
Right from the good old days of cinema, India has been known to produce some of the finest love stories and romantic comedies. Every star has a rich range of the romantic films in their filmography. But over the last few years, the rom-coms and love stories have erode from the cinematic space. In an exclusive conversation with Pinkvilla for the promotions of their February 17, 2023 release, Shehzada, Kartik Aaryan and Kriti Sanon opened up about the dearth of rom-coms.
"There is a void of rom coms," says Kartik Aaryan
When asked on the love stories going missing from the scene, Kartik smiled, "There are love stories being made, but we are just not getting the right script. But I do miss having those good rom-com films under my kitty. There is a void of rom-com. I am doing romantic films next like Satyaprem Ki Katha and Aashiqui 3. Kriti and I did Luka Chuppi together which had a lot of romantic elements. Since then, I don't remember, how many romantic comedies have been made here."
Kriti agreed and was quick to add, "Yes, there is a scarcity of rom-coms, but the scenario with love stories is even worse. I just feel like the conflicts don't exist any more in the romantic space. In today's time, relationships and love have become a little frivolous, which is also the reason why love stories are not being made. People move from one relationship to the other very fast. It's a generational problem too." Kartik informs that his next to are pure love stories. "I am doing two of them, but they are yet to release."
"Hope to make people proud with Adipurush," says Kriti Sanon
Kriti is happy that her co-star has gotten the opportunity of doing two romantic films. "It's amazing because love stories are rare to find. I am dying to do a love story. I have told so many people. I really want to do a pure passionate love story – it's my favorite genre. I do feel that I would be really good in it. I am a romantic at heart. I want to get into that kind of a space," Kriti shared.
Next up for Kriti is Adipurush and the actress is excited for it. "It releases on June 16 and it's a film I am extremely proud off. What Om Raut has attempted to do – I am hoping that the whole country would be proud of it. It's a character that not too many can claim to have played," Kriti conluded. Kartik too opened up about his line-up for 2023 and 2024. "My next is Satyaprem Ki Katha, and it's a love story – what we have been discussing for a while now. I am getting the opportunities to explore the genres which have a void – it happened with Bhool Bhulaiyaa 2 as well. Same is happening with Shehzada – a massy front footed film. Hopefully, Satyaprem will fill in for the void of a love story. It's a great script and we are done with it."
Watch the full video here as Kartik and Kriti discuss Shehzada, and dissect their journeys in the Indian Film Industry.