"Everyone thinks Sri Lanka has average players and are an average side, so if we lose, that's no problem for us," Athapaththu says
Firdose Moonda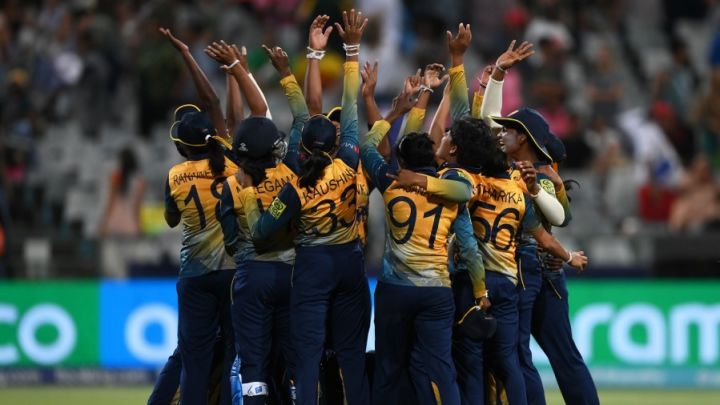 They did not play a match between March 2020 and January 2022. They had only won three of the 13 T20Is they had played against South Africa before Friday. Their World Cup record is poor and the FICA Women's Employment Report said they had "no professional structures" in place. Despite all of that, Sri Lanka silenced the biggest home crowd South Africa's women's team has ever played in front of – 8402 – at Newlands with a stunning, though error-ridden, three-run win.
It was the stuff of dreams for Chamari Athapaththu, who has carried the Sri Lankan team almost single-handedly over her 13-year career. She had scored her first T20I fifty against South Africa in 2016, and on the day, she scored another one to give the tournament a rousing start.
Two days ahead of the match, she had told ESPNcricinfo that she wanted to hit the longest six of the tournament with a lofted off drive. She couldn't do that, but struck five crisp cover drives, three powerful pulls, and one slog sweep in an innings she owned, but also one in which she passed a baton.
Vishmi Gunaratne, just 17 years old, took 13 balls to score her first five runs but then lap swept Nonkululeko Mlaba and plundered three fours off Shabnim Ismail in a strong supporting role. In her, Athapaththu saw someone who could take cricket forward in a country without an extensive player pool.
"No one expects Sri Lanka will win," Athapaththu said. "Everyone thinks Sri Lanka has average players and are an average side so if we lose, that's no problem for us. We don't have any pressure. I told my players to play fearlessly and trust and back your skill."
Vishmi Gunaratne 'a young superstar' – Chamari Athapaththu
She said those words especially to Gunaratne, who Athapaththu described as a "young superstar with a bright future" – not many 17-year-olds take Ismail on and come out on top, after all.
"I just told her to focus on the ball and don't think about who is bowling. She knows Shabnim is the No. 1 bowler so the first boundary she hit, I said, 'you hit that off the world's No. 1 bowler and you can hit another boundary in this over'. She hit the second boundary and I said to her, 'you are really good, better than the No. 1 bowler, so you can hit another boundary'.
"She's really young and she thinks when Shabnim is bowling, she's No. 1. but I just want to relieve that pressure from her, that's why I always talked to her."
Athapaththu also admitted she needed to improve on the field, though, in the end, it was Athapaththu, at long-on, who saved what could have been a boundary in the final over when Ismail hit the ball down the ground. Asked about it afterwards, she repeated what she had said a few days before: "I love pressure. We have only a few experienced players so I always try to lead from the front. We didn't have any pressure in these conditions, especially with South Africa playing in their home conditions."
On the other hand, the expectation on South Africa was enormous. As the hosts that are considered genuine contenders for the semi-finals, they were not supposed to slip up here. Especially not 20 years to the day after West Indies humbled the South African men's team in the 50-over World Cup at this same venue.
Dane van Niekerk – South Africa's missing link?
In their defence, South Africa may have been eclipsed by the emotion of having their regular captain, Dane van Niekerk, who was left out of the squad after failing to meet the two-kilometre time trial requirement of 9:30, at the ground. The last time South Africa played a match at this venue, also against Sri Lanka, it was van Niekerk who took centre stage. She struck an unbeaten 71 off 55 balls to almost single-handedly give South Africa a stunning seven-wicket win. This time, her presence only served to remind them what they were missing, in runs, as a person, and maybe even in passion.
Ayabonga Khaka can scarcely believe the result  ICC via Getty Images
Van Niekerk met her wife, Marizanne Kapp, as the South Africans arrived at the ground and the pair shared a long embrace, which ended with Kapp sobbing. A few minutes later, van Niekerk was pulled away from her new role as a television commentator for "wife duties" to help Kapp mark her run-up at the Kelvin Grove End. Van Niekerk then sang the national anthem from the broadcast box, standing next to Mignon du Preez – who retired late last year and is also in the commentators' panel – and wiped away tears of her own. When Mlaba finished the innings with a boundary that came too late, she slumped to her haunches and covered her eyes. Sune Luus, the current captain, spoke through puffy eyes and a shaking voice at the post-match presentation and was spared having to address the media afterwards.
Instead, that task fell to Sinalo Jafta, who was run-out at a crucial stage in the penultimate over – with 13 runs needed off eight balls – and owned her mistake. "The pressure moment got to me," she said.
And this is not even a knockout game. The tournament has only just begun but South Africa are on the verge of a premature exit. Their next match against New Zealand, which was also going to be decisive in this group because of the presence of near-certain semi-finalists Australia, is a must-win. "We can't run away from the fact that we are going to be in pressure situations," Jafta said. "What we are focusing on most is just being present. This time, we were focused more on the outcome."
South Africa also can't run away from their selection decisions, which has seen them send Lizelle Lee and du Preez into retirement (Lee because she could not meet the weight benchmark and du Preez because there are no T20I-only contracts and she wanted to retire from ODIs) and van Niekerk benched. The trio are among their most successful batters and as opening night concluded with a botched chase, South Africa may be wondering whether they have invented challenges they could have done without.
Firdose Moonda is ESPNcricinfo's South Africa correspondent