Jadeja and Rohit met with match-referee Pycroft to clarify visuals of spinner rubbing a substance on his bowling finger
Nagraj Gollapudi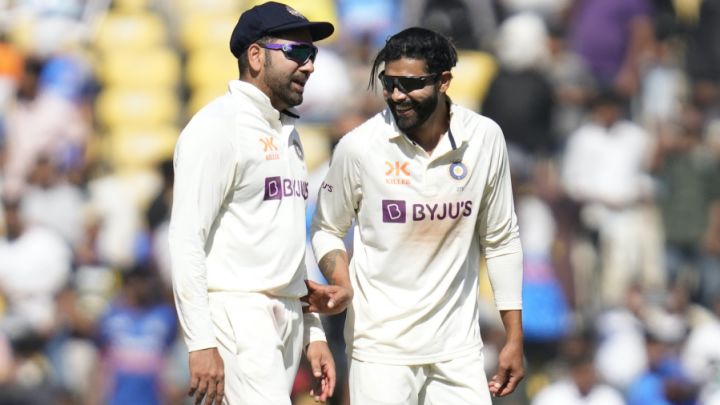 The Indian team management has told ICC match referee Andy Pycroft that Ravindra Jadeja was applying pain-relief cream to the index finger of his bowling hand in the video clips widely circulated on social media on the first day of the Nagpur Test against Australia.
In the video footage, Jadeja was seen taking a substance off the back of Mohammed Siraj's palm with his right hand. Jadeja then appeared to rub this substance on to the index finger of his left hand – his bowling arm – just before beginning to bowl a delivery. At no point in the footage was Jadeja seen rubbing anything on the ball itself, though he did have the ball in his hands at the time.
The incident took place when Australia were 120 for 5, by which time Jadeja had already dismissed Marnus Labuschagne, Matt Renshaw and Steven Smith.
ESPNcricnfo has learned that immediately after play ended on the first day, Jadeja along with India captain Rohit Sharma and the team manager, were shown a video clip of Jadeja's actions. Pycroft, it is understood, wanted to just inform them about the incident and no charge has been laid against Jadeja.
While the incident triggered debates on social and mainstream media, it is learned that the Australia team had not brought the matter to the attention of the match referee. According to the playing conditions, the match referee can independently probe such incidents without needing a complaint to be lodged. And under the Laws of Cricket, the bowler needs the umpire's permission to apply any sort of substance on their hands to ensure the condition of the ball remains unaffected.
Jadeja had made a successful return to international cricket after a five-month injury layoff on the first day of the Border-Gavaskar Trophy. He ran through Australia's middle order, dismissing Labuschagne and Renshaw off successive deliveries, before picking up the wickets of Smith, Todd Murphy and Peter Handscomb. He finished with 5 for 47, as Australia were dismissed for 177 in their first innings in Nagpur.
Nagraj Gollapudi is news editor at ESPNcricinfo