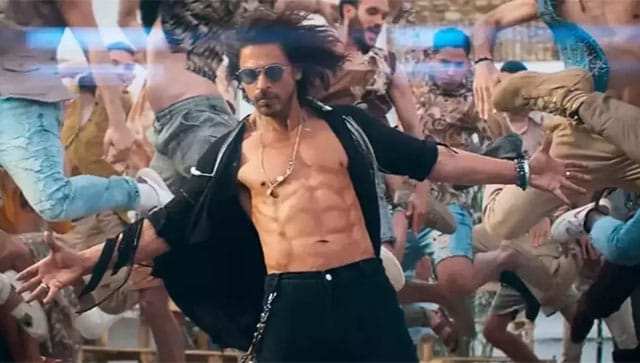 We all loved the clever writing of Pathaan, but did you hear the references to Russia and its intelligence agency KGB being replaced with a fictitious term KOCR. Pathaan is also the first Indian film to be shot in Siberia's Lake Baikal. Shah Rukh Khan's video message for Russian movie-goers was accompanied by huge posters and hoardings of the film in Russian language, installed across major landmarks of Moscow.
Dimple Kapadia plays the role of Shah Rukh Khan's boss in Pathaan and she is the hero for many other reasons as well. Shah Rukh plays a former RAW agent who is part of a special unit (funnily titled JOCR), and Dimple is the senior officer he reports to. Pathaan (Shah Rukh Khan) looks up to Nandini (Dimple) as his one and only boss. There is a reference in Pathaan where Deepika Padukone, Shah Rukh Khan and Dimple Kapadia want to go to Raktabeej which is in Russia. Nandini, played by Dimple Kapadia, also mentions that Russia is our biggest ally.
We cannot deny Bollywood played a very important role as one of the major sources of entertainment with the White audience. The content of Pathaan was such that it is not only a typical Bollywood film, but I would say it was made with the intention of keeping the global audience interested in our movies. For me it is a global film. We are all aware of how Raj Kapoor's films are popular in Russia. But Bollywood has lost its connection with the audience since the disintegration of the Soviet Union. After Kapoor, Indian cinema stopped making an impact with the Russian audience. It was Shah Rukh Khan's Pathaan with its Russian connection that made the Ruski audience interested in Indian cinema.
We cannot deny that it was through Raj Kapoor that the major connection of India-USSR relations happened. But at the same time we must give credit to SRK for not only bringing back the audience to the theatres with Bollywood's hit film Pathaan, but also rebuilding the India-Russia relation through entertainment. Train action packed scene of Salman Khan and SRK was shot in Russia. The high-octane spy thriller Pathaan was shot in a wide range of locations across India, Afghanistan, Spain, UAE, Turkey, Italy and France. But the thrilling bike chase was shot on Lake Baikal in Southern Siberia, Russia. Pathaan is the first Indian film to be shot on this UNESCO World Heritage Site, nicknamed the 'Pearl of Siberia'. Lake Baikal is not a sea, but the deepest lake in the world with a depth of 1,642m.
Read all the Latest News, Trending News, Cricket News, Bollywood News, India News and Entertainment News here. Follow us on Facebook, Twitter and Instagram.