The government has recently floated consultation paper on the issuance of composite insurance license. This would allow life insurers to enter general insurance market and vice versa. This proposal is likely to be taken up in Parliament this Budget session.
Star Health Insurance is planning to foray into life insurance business with focus on protection products. For the same, the health insurance firm is likely to apply to Insurance Regulatory and Development Authority of India (IRDAI) for composite insurance license. Once approval is given, the firm will be able to look at creating complimentary product offering, sources informed CNBC-TV18.
Currently, Star Health Insurance operates in the standalone health insurance business.
CNBC-TV18 has written to Star Health Insurance on the same. The response from the company is awaited.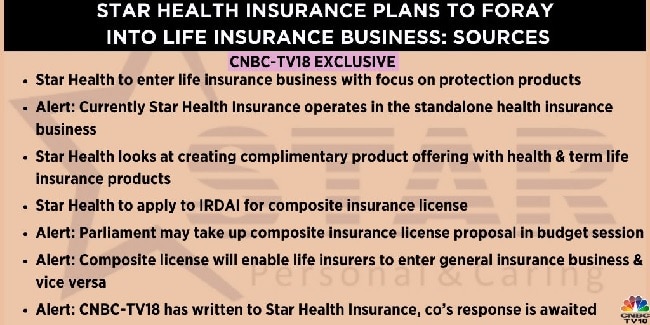 The Department of Financial Services has also suggested allowing insurers to operate in multiple lines of business — general, life, and health — without having to seek separate licences from the regulator for each business, provided they meet the minimum capital requirements. This would require an amendment to the Insurance Act, 1938.
Currently, insurers need separate licences for life, general and standalone health insurance business.
HDFC Life Insurance
has also applied to Insurance Regulatory Authority of India (IRDAI) for permission to enter the indemnity health insurance market,  Post IRDAI's approval, the life insurance firm is likely to focus on critical illness products.