With a big 90 run win in the third and final ODI against New Zealand, Team India has recorded back to back ODI series clean sweeps at home. India had blanked
Sri Lanka
before this.
Winning home bilateral ODI series has become more than just a habit for the Men in Blue. Incredibly, since 2009, in 27 home bilateral series that India have played, the team has won 24 and lost only 3.
TimesofIndia.com here takes a look at some very interesting statistics and trivia on the Indian juggernaut that continues to steamroll opposition at home in the ODI format. It really makes for very pleasant reading if you also remember the fact that the next edition of the ICC ODI World Cup will be played in India later this year.
Team India in bilateral ODI series at home since October/November 2009:
Facts:
– Since losing to Australia 4-2 in India in October/November 2009, India enjoy a splendid home record in the bilateral series, winning 24 and losing just three out of 27 contested.
– The three series lost by India are one each to Pakistan (2-1) in 2012-13, South Africa (3-2) in 2015-16 and Australia (2-3) in 2018-19.
– During their last 27 bilateral home series, India have won 73 matches and lost 28 (Tied 1 and No Result 2) out of 104 contested – winning % being 72.06.
– By whitewashing the New Zealanders in the just concluded series, India have won seven successive bilateral series wins on Indian soil from December 15, 2019 onwards – their best winning streak in India.
Stats:
– The opposition that Team India have defeated since 2019, as part of their 7 straight bilateral ODI series wins at home include the likes of Australia,
West Indies
, South Africa, Sri Lanka, England and New Zealand
– These series wins include three clean sweeps – A 3-0 win vs the West Indies in 2021-22, a 3-0 win against Sri Lanka recently and now a 3-0 series whitewash of New Zealand.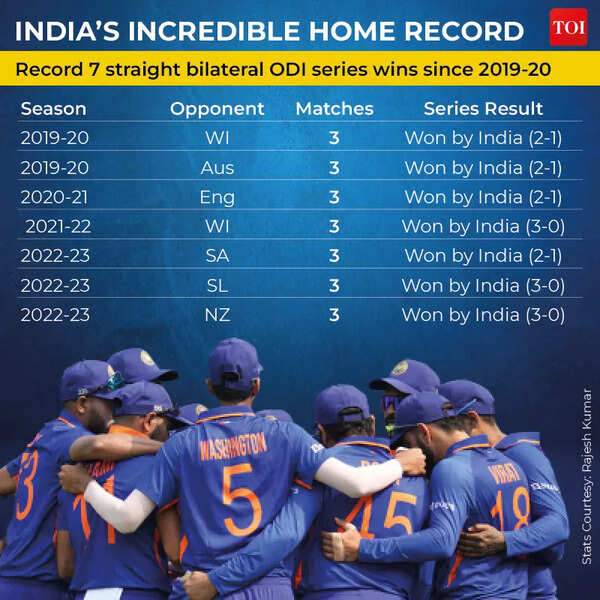 India continue to dominate New Zealand in home ODI series:
Fact:
– India have now won seven successive bilateral home series against New Zealand on Indian soil, enjoying their unbeaten record between 1988 and 2022.
India in their last 27 home bilateral series, since 2009:
The Best Performers:
Fact:
– Since November 2009 (after the 4-2 loss to Australia at home) in the 27 home bilateral ODI series played, the stand-out performers with the bat and ball have been Virat Kohli (batter), Mohammed Shami (pacer) and Ravindra Jadeja (spinner)
Stats: