A Mandeville-based elderly care nonprofit has finalized its purchase of the hospice and at-home care businesses affiliated with the Archdiocese of New Orleans, the first step in what is expected to be a broader exit by the local Roman Catholic Church from overseeing the nursing homes it founded more than four decades ago.
CommCare Corp., which operates nursing and rehabilitation centers across Louisiana, closed on its purchase of Notre Dame Home Health and Notre Dame Hospice last week for an undisclosed price. They were sold by Notre Dame Health System, a nonprofit overseen by Archbishop Gregory Aymond.
The archdiocese announced in August that it had reached an agreement to exit from its affiliated businesses caring for older adults, which also include the three nursing homes controlled by Notre Dame Health System: Chateau de Notre Dame in New Orleans, Wynhoven Health Center in Marrero and Our Lady of Wisdom in Algiers.
Another church-affiliated property, senior-living community St. Anthony's Gardens in Covington, is also part of the broader deal that CommCare Executive Director Jim Tucker said he expects will be finalized in 2023.
"There are a lot of moving parts, and we are still working on getting there but I feel confident it will move forward," Tucker said. "It's a good thing and it will happen."
All told, the deal will shift more than 800 beds and apartment units in the New Orleans metro area away from the local church, which first began offering older adults housing in 1977, when Archbishop Philip Hannan founded Chateau de Notre Dame.
The move comes as the Archdiocese of New Orleans, which filed for Chapter 11 bankruptcy court protection in May 2020 amid mounting claims related to past child sexual abuse, is selling off some of its excess real estate to raise money for what is expected to be an eventual settlement with victims.
Earlier this month, the bankruptcy court cleared the way for the archdiocese to sell its former office building on Howard Avenue and an adjacent parking lot in two separate deals that together will generate nearly $10 million. 
Unlike those property sales, however, the nursing home deals didn't require bankruptcy court approval, church officials and bankruptcy lawyers said. That's because Notre Dame and St. Anthony's Gardens are not technically owned by the archdiocese — even though they are operated by its affiliate, overseen by Aymond and covered under the archdiocesan insurance policy.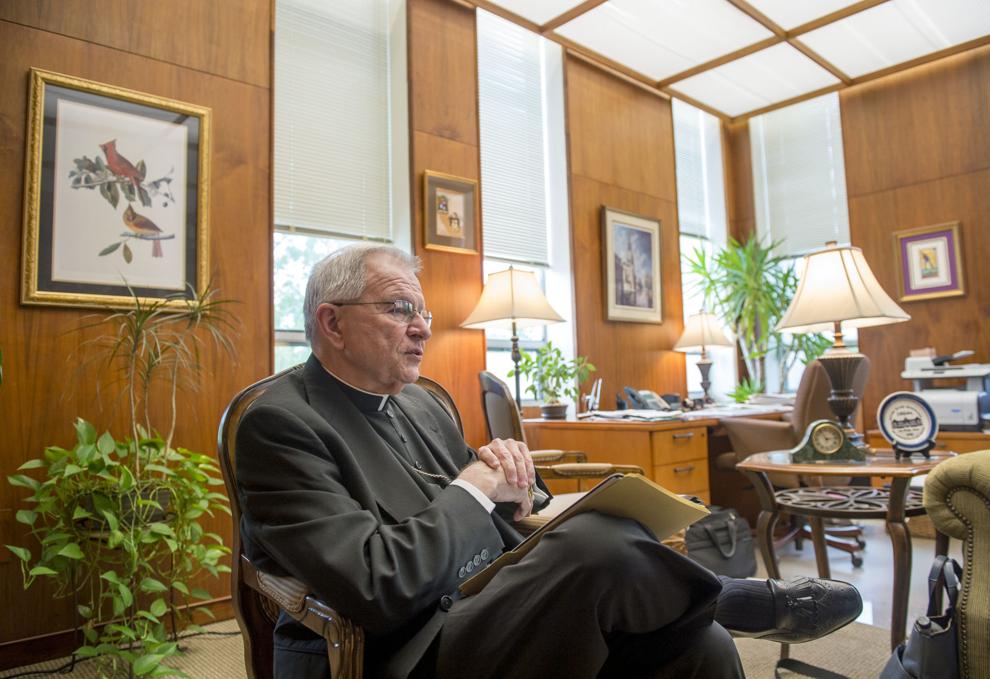 The archdiocese has also backed loans made to St. Anthony's Gardens, according to its financial disclosures.
The archdiocese and Notre Dame declined to comment on the deal except to note that Notre Dame Health System is a separate nonprofit entity "working towards a change in ownership with CommCare."
'Significant challenges'
CommCare was founded in 1993 by local businessmen John Stassi, II, Walter Fowler and Henry Masson, and currently operates 15 nursing home and skilled nursing facilities around the state.
It is registered as a nonprofit, though it has a for-profit management arm that operates its facilities.
The acquisition of Notre Dame Home Health and Notre Dame Hospice will mark CommCare's first foray into the home health business and a return to the hospice care sector.
"We're very excited about acquiring two dynamic companies with an extraordinary group of caretakers," said Tucker. "We had a hospice in central Louisiana until last year, which we sold, so we're glad to be getting back into the hospice business. Home health is a new business for us that we believe has great potential for the future."
When Notre Dame announced in August it had reached a deal to sell to CommCare, health system CEO Jeff Tully indicated that the increased costs and complexities of health care had made owning and operating nursing homes challenging for the church affiliate.
"When Archbishop Hannan founded Chateau de Notre Dame, the church was filling a void that existed in health care in the region, a void that no longer exists," Tully said at the time. "Today, we find ourselves facing significant challenges as health care management has become more specialized and costly, particularly in light of the COVID-19 pandemic, inflation, and rising insurance costs."
Under CommCare ownership, Tucker said that patients should see an enhanced level of care because the larger system can operate more efficiently and can afford to invest in upgraded services and facilities.
The archdiocese, which serves more than 500,000 Roman Catholics in the New Orleans area across 112 parishes, also oversees Christopher Homes, which manages nearly 2,500 rental properties for low-income older residents.
Those properties are not part of the deal with CommCare.